Plant-Ex's Applications Team has been working hard over the past few months in order to generate new ideas for Halloween, utilising the most popular and traditional colours and flavours that we manufacture. Although it's too late to start this Halloween, the food world likes to work a year in advance! Get started on 2023 ideas using what we have made as inspiration!
This blog post will be able to guide you towards the best products for your products and provide you with new innovative ideas. We decided to show you a great way to use Plant-Ex colours and flavours in combination to create that extra special treat, with a frightening twist.
Witches Tights Biscuits
The first product the Plant-Ex applications kitchen produced was 'Witches Tights Biscuits'. They made these by creating two different coloured biscuit doughs; one coloured with paprika extract and the other coloured with carbon black paste. The orange dough was flavoured using a peach flavour, and the black dough was flavoured using liquorice extract. Read on to learn about the products used in more detail, in order to determine whether these are the right products for you…
NC1641 Paprika Extract
Paprika is a natural orange colour that is widely used within the food industry. Plant-Ex ingredients manufacture Paprika Extract in a variety of usable formats – NC1641 Paprika Extract is made by emulsifying Paprika Oleoresin, with the addition of DL Alpha Tocopherols to fortify the product against degradation by heat, oxygen and light. This means it will not fade in colour when used in the end application.
Paprika Extract can be declared on the back of the pack as either 'Colour: E160c' or 'Paprika Extract'.
In summary:
For more orange colour options, check our article The Ultimate Guide to Orange Colours in Food and Beverage
NC012848A Carbon Black Powder
Carbon black is produced through the burning of plant material such as Coconut shells; it is commonly used in the food industry for colouring confectionery products such as Liquorice. The colouring power of Carbon black is determined by particle size – by finely milling the pigment the intensity of the colour can be increased while lowering the dosage required. Carbon black is extremely heat and light stable and available in liquid, powder and paste formats. It can be labelled as 'E153' or 'Natural Colour; Vegetable Carbon'.
In summary:
| | |
| --- | --- |
| pH | Good |
| Heat | Excellent |
| Light | Excellent |
FI018651N Liquorice Extract Powder
Plant-Ex has created this clean-label extract powder by spray drying a liquorice extract. Due to this being an extract, it can be declared on the back of the pack as 'Liquorice Extract'. It would also make liquorice depictable on the front of your packaging!
TF019277A Peach Flavour Base
Peach is a very versatile flavour, as it can be used in sweet or savoury products. Here, we used this juicy peach flavour in a biscuit to balance the slight bitter anise flavour from the liquorice extract.
The peach flavour we used in this product is artificial, however, we manufacture natural flavours too, so make sure to get in touch to view all options!
Broken Glass Cupcake
Our 'Broken Glass' cupcakes were a firm favourite amongst the Plant-Ex Team. Made with a Chocolate flavoured sponge and a Tropical flavoured buttercream, and decorated using Plant-Ex's Ruby Red Blend to replicate blood – HIGHLY recommended for all things Halloween!
To find out more about the colours and flavours used in these 'Broken Glass' cupcakes, keep reading.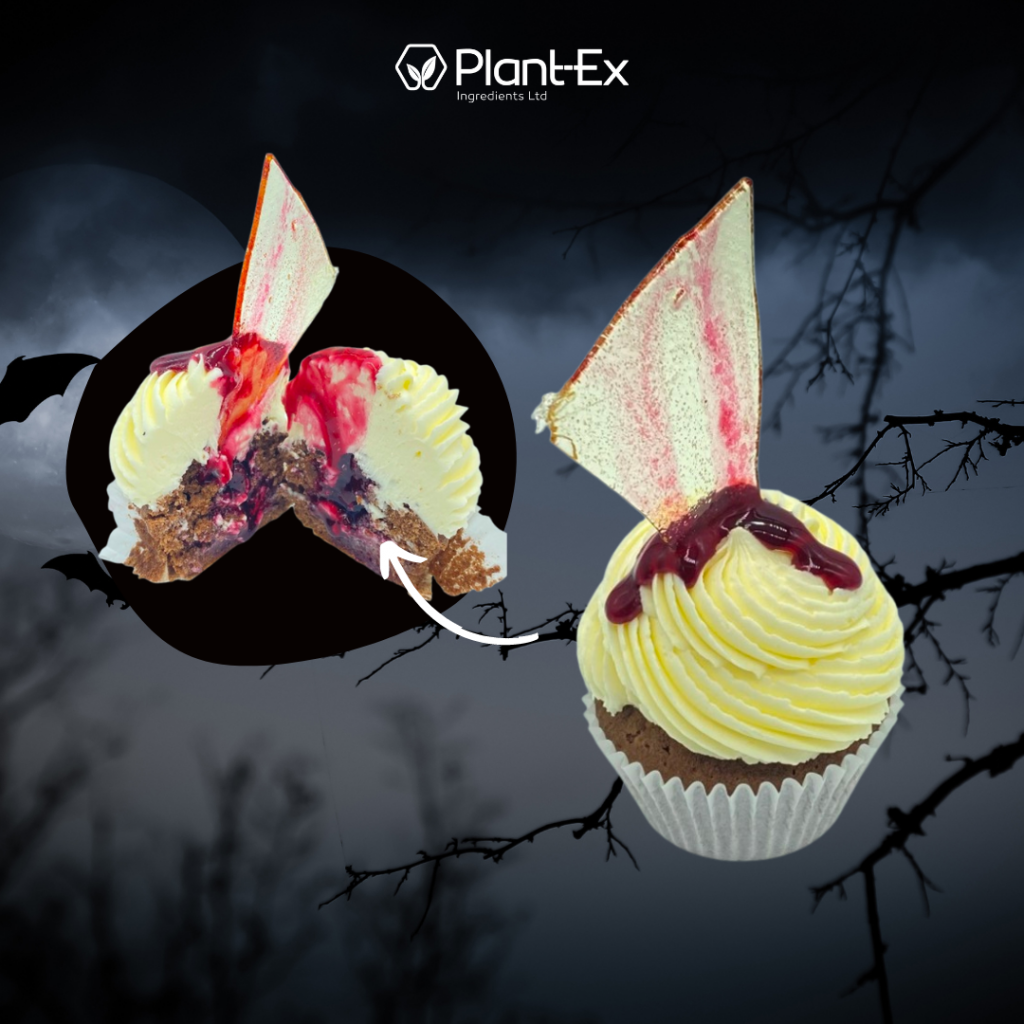 CF020467A Ruby Red WSL Colour
Plant-Ex's 'Ruby Red' is made from a black carrot extract. As black carrot is an anthocyanin and therefore sensitive to pH, we made the 'blood' acidic which produced a deep red shade. Black Carrot is a clean label colour and therefore can be declared 'Black Carrot Concentrate' on the back of the pack. Clean-label colours are very appealing to consumers nowadays, so this is a highly recommended colour to use.
It is available in a water-soluble, liquid format.
In summary:
| | |
| --- | --- |
| pH | Sensitive (more suited to acidic pH) |
| Heat | Good |
| Light | Good |
For more red colour options, check our article 50 shades of Red in Food and Beverage
TF018036A Strawberry Flavour
Naturally, our Applications Team chose to flavour our 'blood' with strawberry flavour. Strawberry is an extremely popular fruit, so if you are looking for that burst of sweetness to boost your flavour, strawberry is the way to go!
Plant-Ex has manufactured a water-soluble, liquid format. This product is an artificial flavour, so it needs to be declared as 'Flavouring' on the back of the pack. We do manufacture natural flavours, too – if you would be interested in seeing a list of our natural flavours then get in touch.
TF015872N Chocolate (Dark) Flavour
It's safe to say that pretty much everyone likes chocolate. Whether your favourite is dark, milk or white – there's a chocolate to suit every taste.
Plant-Ex has created a dark chocolate flavouring, great for adding a bitter and less sweet flavour to your terrifying treats. This chocolate flavour is manufactured by natural aroma-chemicals and processes so, therefore, can be labelled as 'Natural Flavour' on the back of the pack.
It is available in a water-soluble, liquid format. Looking for a new flavour supplier? Get in touch!
TF015964N Tropical Flavour (NAT)(SD)
A tropical flavour is a great addition to frightening foods. Traditionally, it wouldn't be many people's first choice of Halloween-themed flavours, however, it creates that brave, adventurous feeling that consumers are edging towards.
Grave Dessert
Our 'Grave Dessert' is made using a chocolate-flavoured sponge, complimented with a gingerbread-flavoured mousse, toffee-flavoured 'mud' and a gummy worm coloured with our Safflower and Spirulina blend! To top it off, a cinnamon roll flavour was used for the headstone.
Listed below are the exact products used to create this ghoulish 'Grave Dessert' with some extra information.
TF016153N Cinnamon Roll Flavour (NAT)(SD)
Plant-Ex's cinnamon roll flavour is very popular, especially for products launching in the autumn and winter months. It adds a punch of cinnamon, complimented with a sweet and smokey vanilla note. The particular product we used in the biscuit was a powder, however, if you would like this in the liquid form please get in touch to request it.
TF015624N Toffee Flavour (NAT)(SD)
Plant-Ex used this creamy toffee flavour in a mousse, to represent 'mud' in our graveyard puddings. We made this mud by making a cupcake and crumbling it over the top of the pudding.
TF019191N Lime Flavour (NAT)
Looking for a refreshing flavour to add to your products? Plant-Ex has created a water-soluble lime flavour in a liquid format – great for adding citrus notes to your products.
It can be declared on the back of the pack as 'Natural Lime Flavouring WONF'.
TF016297N Gingerbread Flavour (NAT)(SD)
Gingerbread is typically a combination of a number of spices, such as ginger, cumin, cinnamon, cloves etc. Plant-Ex emulated these spices in our gingerbread flavour, adding a biscuit back-note to top it all off.
CF0030 Safflower Extract
Safflower Extract is a bright yellow colour that we used in a gummy worm for this dessert. We manufacture it as either a water-soluble liquid or a water-soluble powder.
It is a colouring foodstuff made without the use of solvents or chemical processing, and therefore you don't need to declare an E-number on the back of the pack. Instead, it can be labelled as 'Safflower Extract' which is a great added value for consumers that are looking for clean-label ingredients.
In summary:
| | |
| --- | --- |
| pH | Stable in 3-8 pH |
| Heat | Excellent |
| Light | Excellent |
CF014548A Spirulina Blue (CS)
With very few natural blue shades existing in nature, Spirulina is a widely used option for achieving clean-label blue shades.
Plant-Ex has manufactured this blue colour from Spirulina Extract which has been dispersed in a Glucose base to create a water-soluble liquid colour suitable for use in confectionery. Spirulina is commonly blended with other colouring foodstuffs to make a range of colour blends, ranging from greens to violets.
It is a clean-label ingredient so can be labelled as 'Spirulina Extract' on the back of the pack.
In summary:
| | |
| --- | --- |
| pH | not stable in acidic pH |
| Heat | Poor |
| Light | Average |
As you can see, our applications team have worked hard to prepare some innovative products for the Halloween season.
Looking for a new colours or flavours supplier? Email us at sales@plant-ex.com for any enquiries or samples you wish to try.