You can achieve a red colour from a variety of different pigments, deriving from plants, minerals or even insects. Although there is a variety of options, we would recommend using different sources for different applications – learn why later in this blog post!
Origin of Red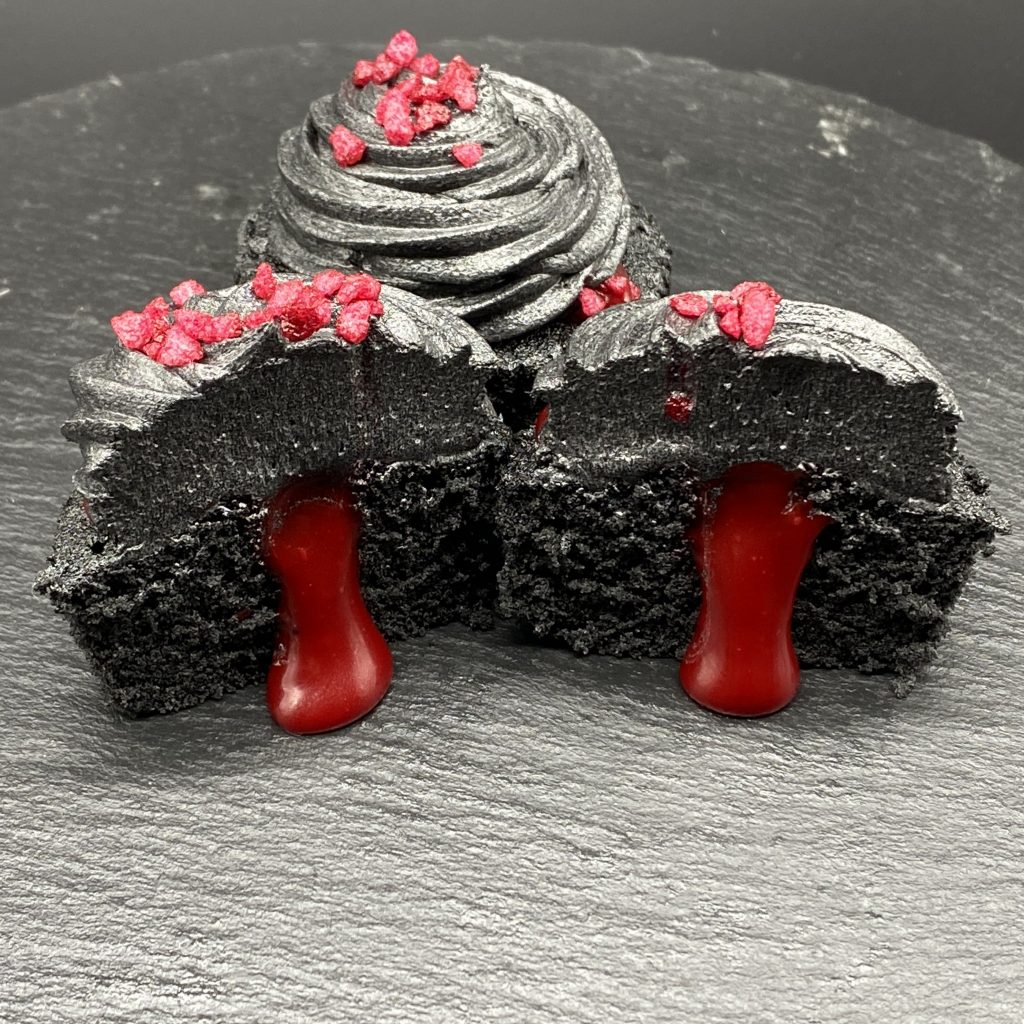 The use of red food colouring dates back to ancient times when it was used to dye caves and other surfaces. Nowadays, it is used widely among the Food Industry to give colour to foods and beverages.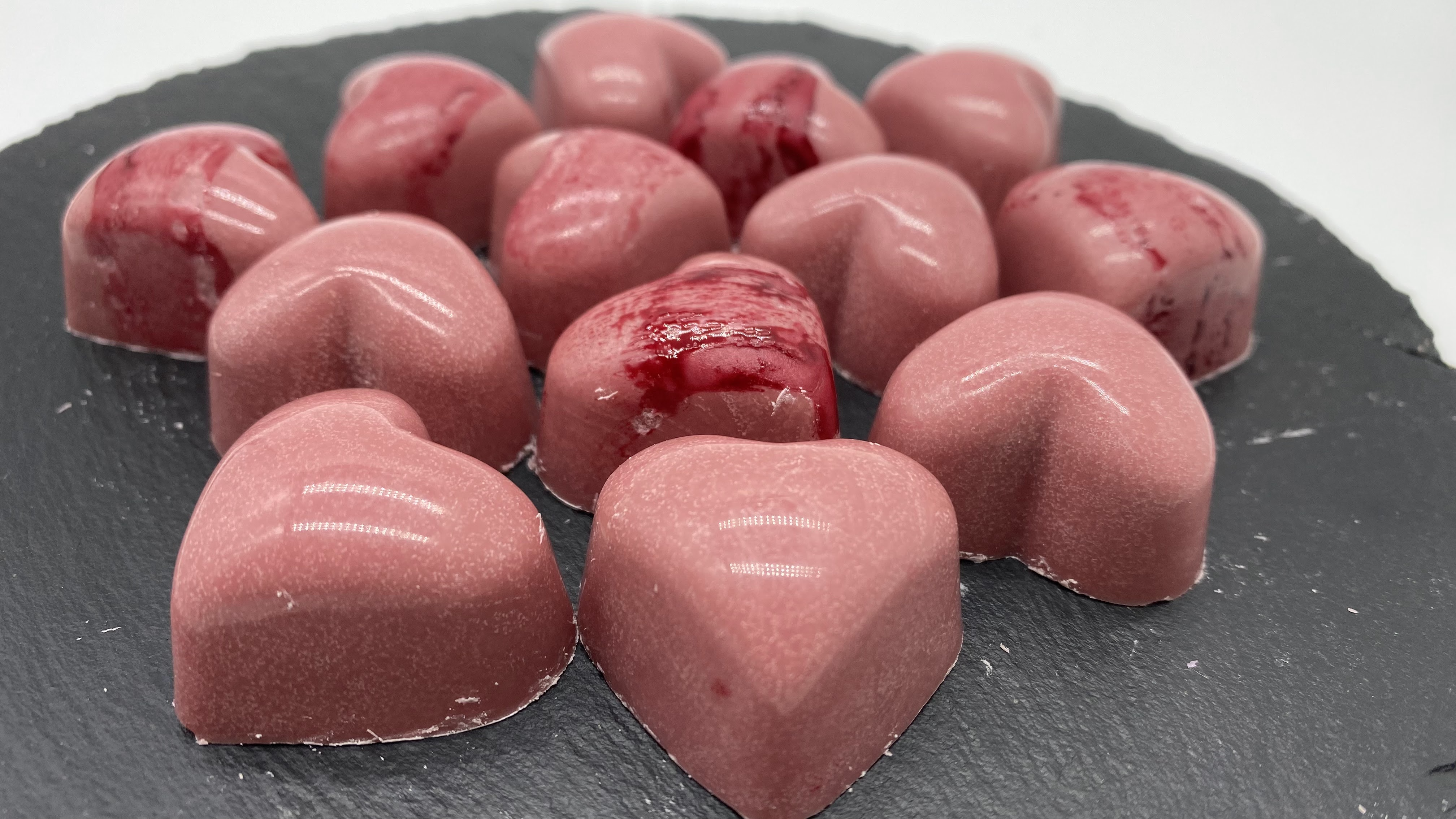 Sources of red food colouring include beetroots, cochineal beetles and radish. Occasionally, paprika with a high colour unit can give red shades, which we recommend using for meat-free applications such as vegan sausages.
Beetroot
Beetroot is used widely in the food industry as it is a very cost-effective product, and is suitable for vegans and vegetarians. It imparts blush red to bright red shades to products.
Red beet is suited to Fresh Meat/Frozen desert applications due to the issues over heat stability. High cooking temperatures should be avoided when using this colour to ensure the colour remains bright and stable.
Below is a photo demonstrating red beet concentrate at room temperature (left) compared to red beet concentrate after being heated to 75 degrees Celsius for 25 minutes. Before cooking, beetroot contributes a fresh red/pink colour. During the cooking process, the colour of beetroot will change due to the caramelisation of the sugars, turning it more brown. Both samples below are used at 0.1% in water at pH 7.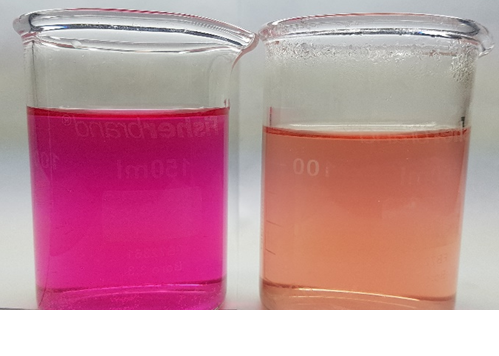 Plant-Ex's red beets are available in a number of formats, from concentrated liquids to spray dried and encapsulated powders.
Suggested Applications: Seasonings, Fresh Meat, Ice Cream & Dairy (only if it hasn't been UHT treated), Confectionery, Ambient Sauces, Sports Nutrition, Icing & Fat Based Frosting.
| | |
| --- | --- |
| pH | Stable from pH 5-7 |
| Temperature | Sensitive over 70C |
| Light Stability | Stable |
Carmine
Carmine is a red pigment that is extracted from female cochineal beetles, which are native to South America. A Carmine pigment provides pink to red shades, and carries the E-number E120.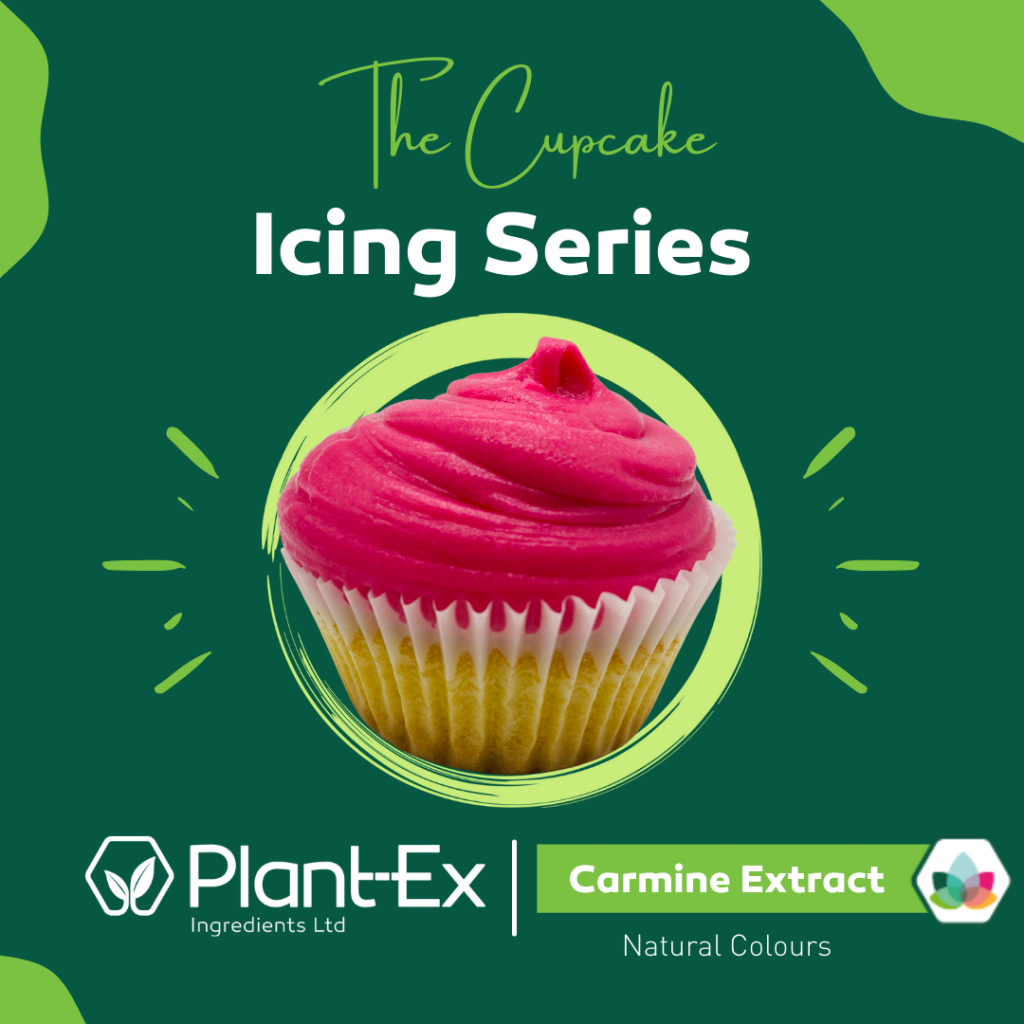 Out of all the red shades, carmine is the most recommended colour to use in bakery as it withstands and remains stable in high temperatures. However, due to the source being cochineal beetles, carmine is not suitable for vegans or vegetarians, resulting in it not being particularly favourable amongst retailers as it limits the target market.
As a colour house, we are consistently looking at carmine alternatives for bakery, however at this stage there are very few viable options.
Suggested Applications: Bakery, Meat, Confectionery, Seasonings, Sauces, Icing & Fat Based Frosting.
| | |
| --- | --- |
| pH | Stable |
| Temperature | Stable |
| Light Stability | Stable |
Radish
Radish belongs to the anthocyanin family, and gives the most 'red' shade. It is considered to be a Colouring Foodstuff, meaning there is no E-number that needs to be declared. Suggested labelling includes "Radish Extract", or "E163 Anthocyanin".
Below is a photo of CF1635 Radish Extract at 0.1%, from left to right in pH 9 to pH 3.

Due to the nature of anthocyanins radish is very sensitive to pH, and is more suited to applications with a pH of 3 – 5. As per the photo above, in alkali pH radish gives a blue shade. As misleading as this may be, the blue shade only lasts around 24 hours before it fades, so it would not be a suitable blue shade.
Suggested Applications: Beverage, Sports Nutrition, Ice Cream & Dairy, Confectionery, Bakery, Sauces.
| | |
| --- | --- |
| pH | Stable from pH 3-5 |
| Temperature | Stable |
| Light Stability | Stable |
Black Carrot
Black Carrot is another anthocyanin, and is a more cost-effective alternative to Radish Extract. Similarly to Radish, you do not need to declare an E-number as it is considered a Colouring Foodstuff.

Above, you will see NC0169 Black Carrot Extract dosed at 0.1%, from left to right pH 9 to pH 3. The shade at pH 3 is not as red as the shade that Radish gives at this acidity level, however, it is still a very sought-after colour within the industry.
Plant-Ex Ingredients' Turkish factory, Plant-Ex Gida, is located in the region whereby purple carrots are grown and farmed, meaning our prices on black carrot extracts are very competitive.
Suggested Applications: Confectionery, Beverage, Bakery, Ice Cream & Dairy, Fruit Preparations, Sauces.
| | |
| --- | --- |
| pH | Stable from pH 3-5 |
| Temperature | Stable |
| Light Stability | Stable |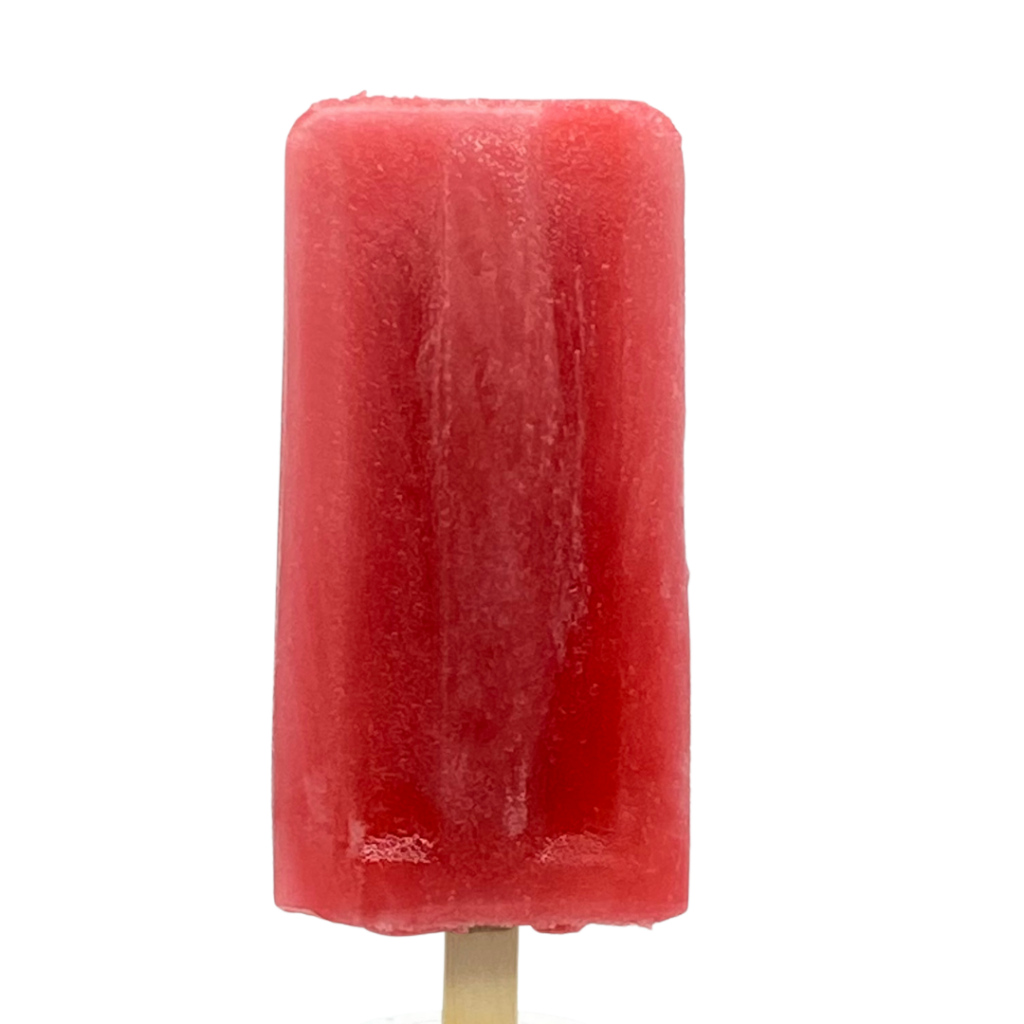 Choosing the Right Red
Colour is one of the most important aspects of food. It can influence our appetite, affect how food tastes, and even change our mood. The colour red is shown to increase our heart rate and blood pressure, which can lead to improved focus and energy. Red colour is also associated with 'excitement' and 'passion', making it the perfect choice for foods that are meant to thrill and tantalise the senses.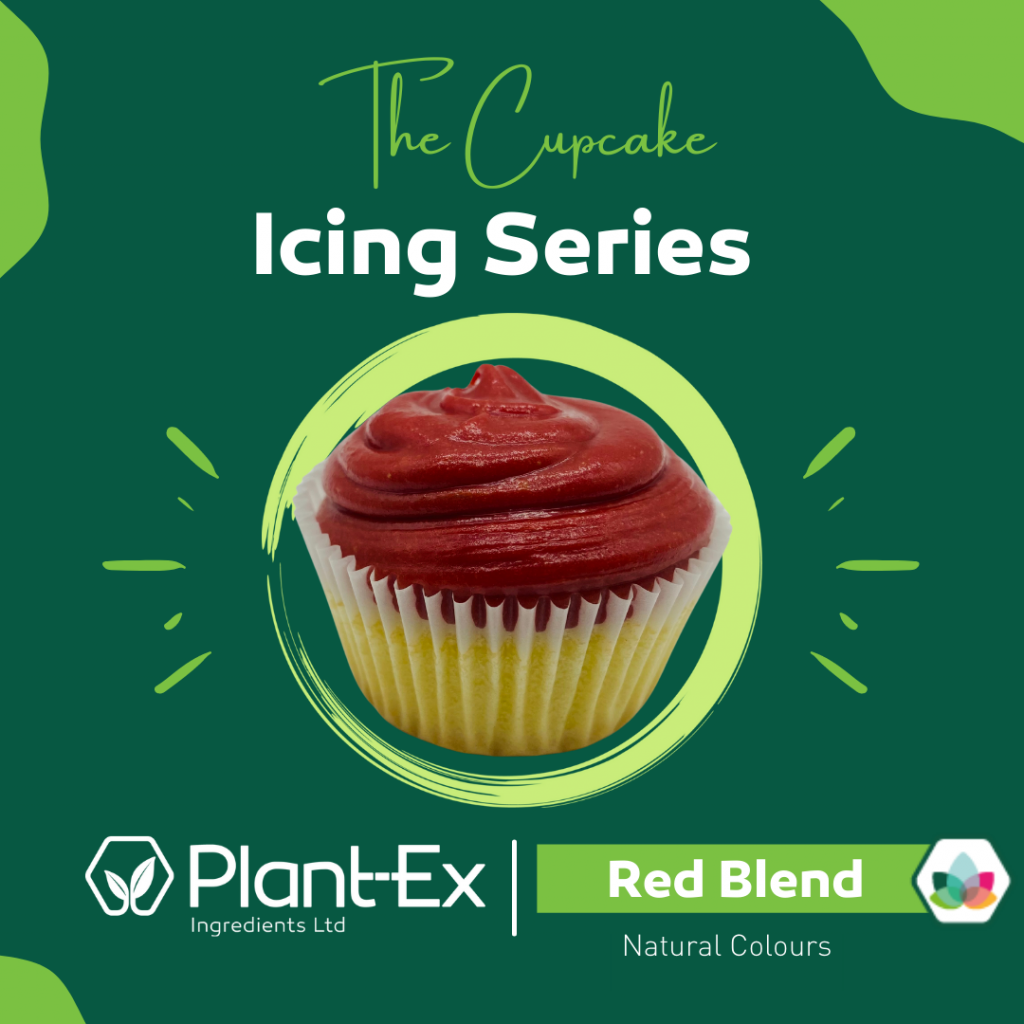 Plant-Ex's 'red colours' portfolio is extensive – when looking for a red colour, it is important to let your account manager know exactly what you are looking for. For example; what your application is, and whether you're looking to declare an E-number and a rough pH. This is important as it will help us to make a decision on what product is best suited for you.
Applications of red colour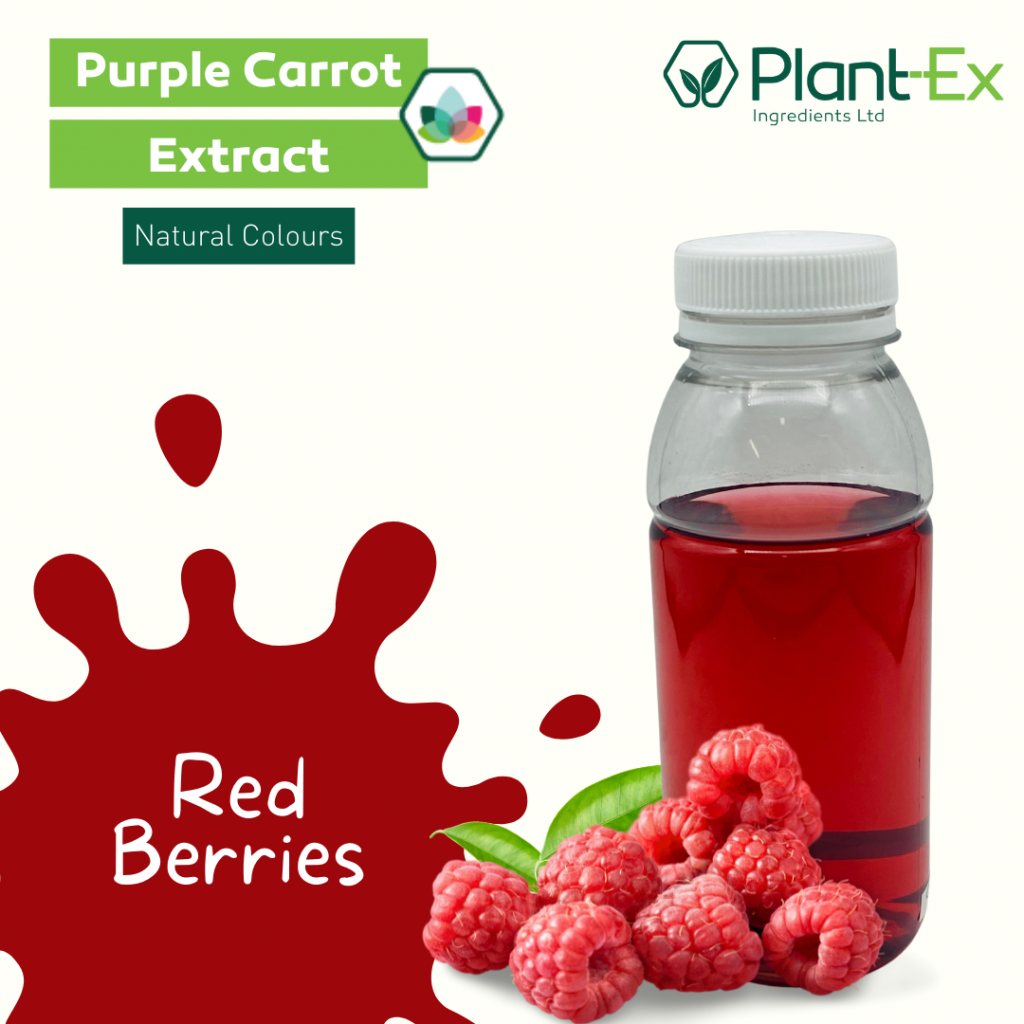 To look at other applications using Plant-Ex's various red shades, visit https://www.plant-ex.com/applications/
In conclusion, there are many shades of red colour in food and beverage. Some of these shades are due to natural pigments, while others are a result of pH. To obtain the desired shade of red, food manufacturers must carefully select the right colour for each application. For technical assistance with this process, email Plant-Ex at sales@plant-ex.com.