Orange is a very popular food colour, and for good reason! Orange colours come from a variety of cost-effective, natural sources. The 3 main natural orange colours that Plant-Ex offer include carotenes, annatto and paprika. However, we have also created a number of 'orange blends' to assist with labelling declarations. In this article, we will go through each orange colour in more detail to help you identify which colour would suit your application best.
CAROTENES E160A
Carotenes are a versatile group of orange pigments found widely throughout nature. They are extracted from fungi, plants, vegetables and fruits, but can also be produced synthetically and are commonly used to colour food under the E number E160a.
The carotenes are subdivided according to the source material that the pigment is extracted from. While the source of Carotenes may vary, the performance and colour shade remain very similar.
E160a (i) Synthetically derived Beta Carotene
E160a (ii) Mixed Carotenes from plant and vegetable sources, typically Palm derived
E160a (iii) Fungal derived Beta Carotene by fermentation of Blakeslea trispora
E160a (iv) Algal derived Carotene from Dunaliela salina
Carotene colours can give yellow to orange shades in application, as per the photo below.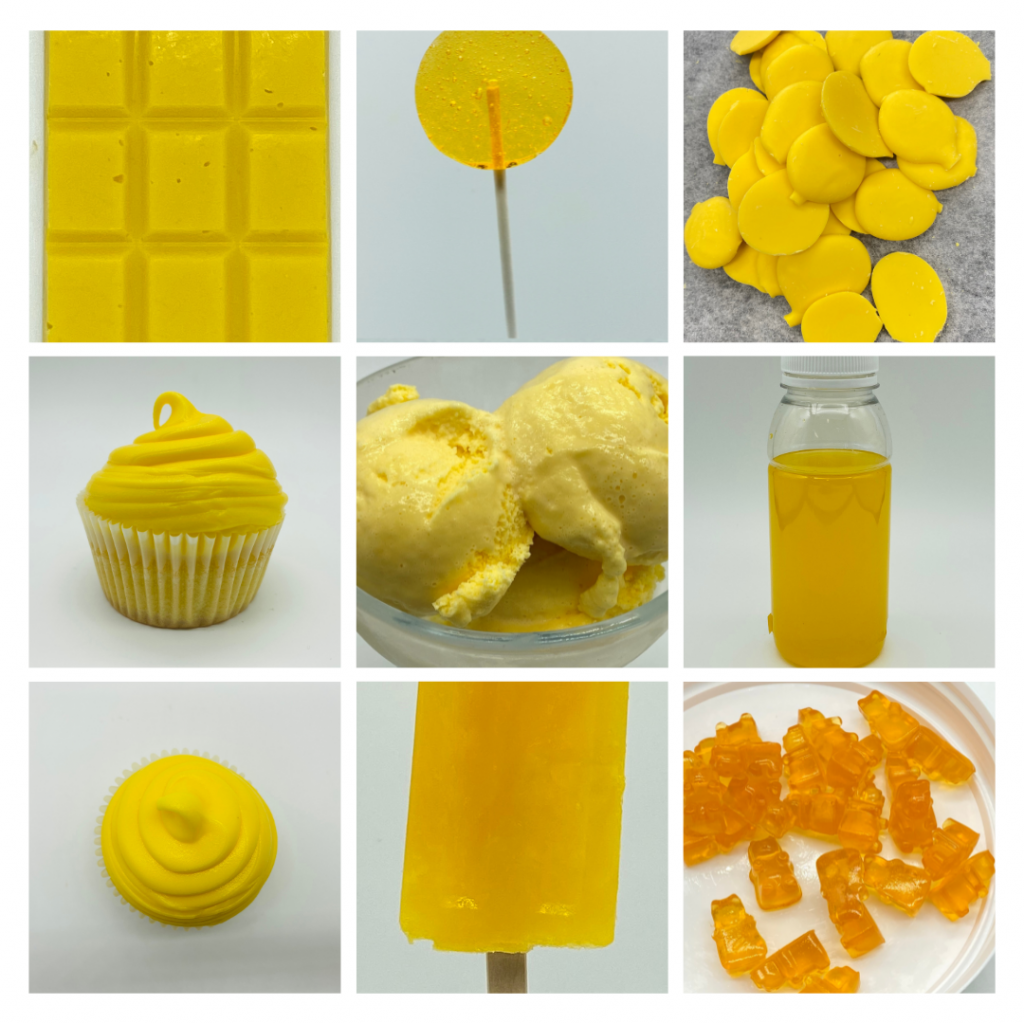 Plant-Ex's Carotene products are available as water-soluble liquids and powders, as well as oil-soluble liquids, all with varying pigment contents.
Further research:
In addition, high stability, water-soluble Beta Carotene emulsions are commonly used to add visual appeal to Orange and Citrus flavoured beverages. The type of emulsifier used in the emulsion, as well as the way it is processed, affects the turbidity of the colour when in solution. This refers to whether the beverage is clear or cloudy.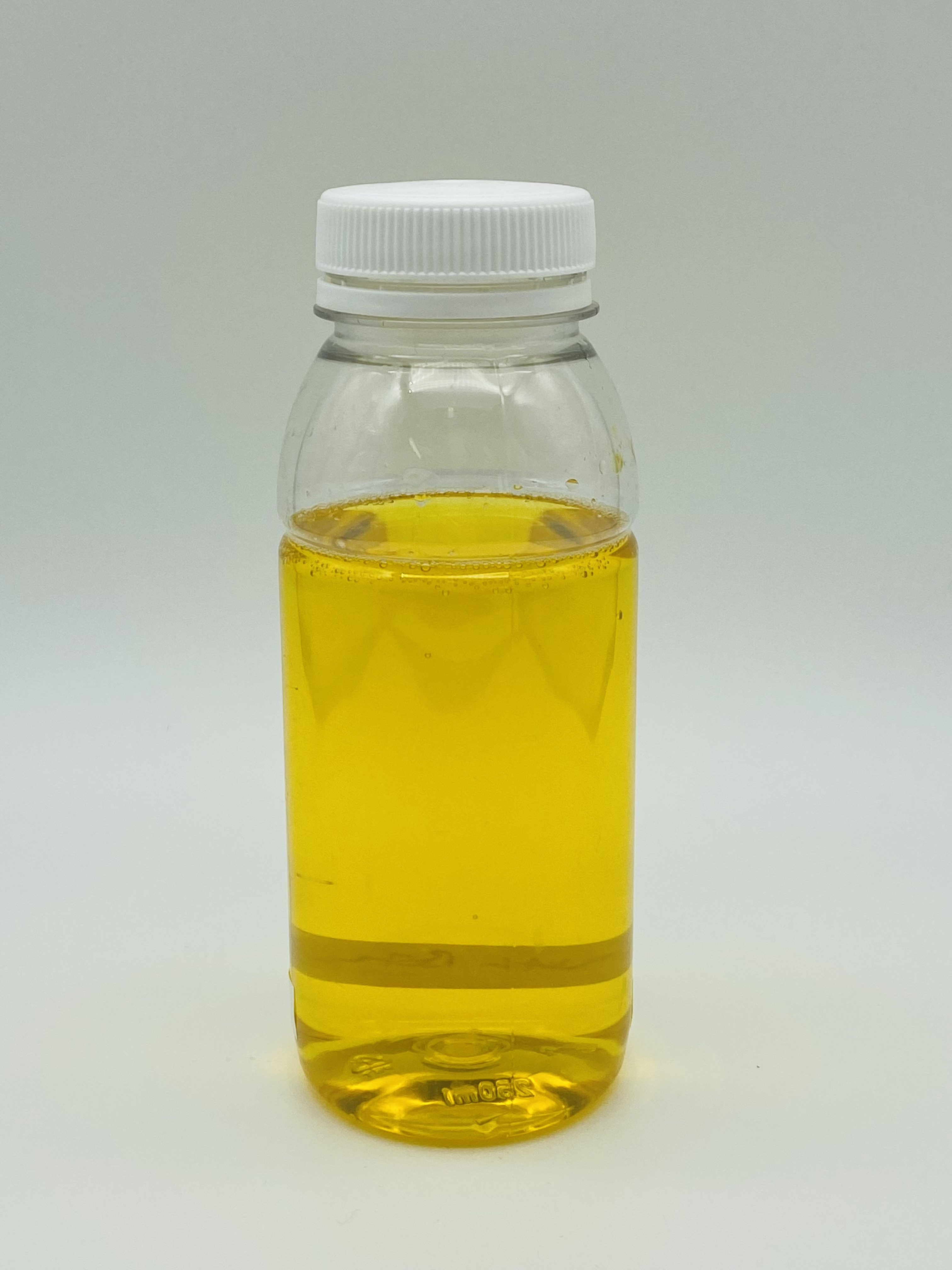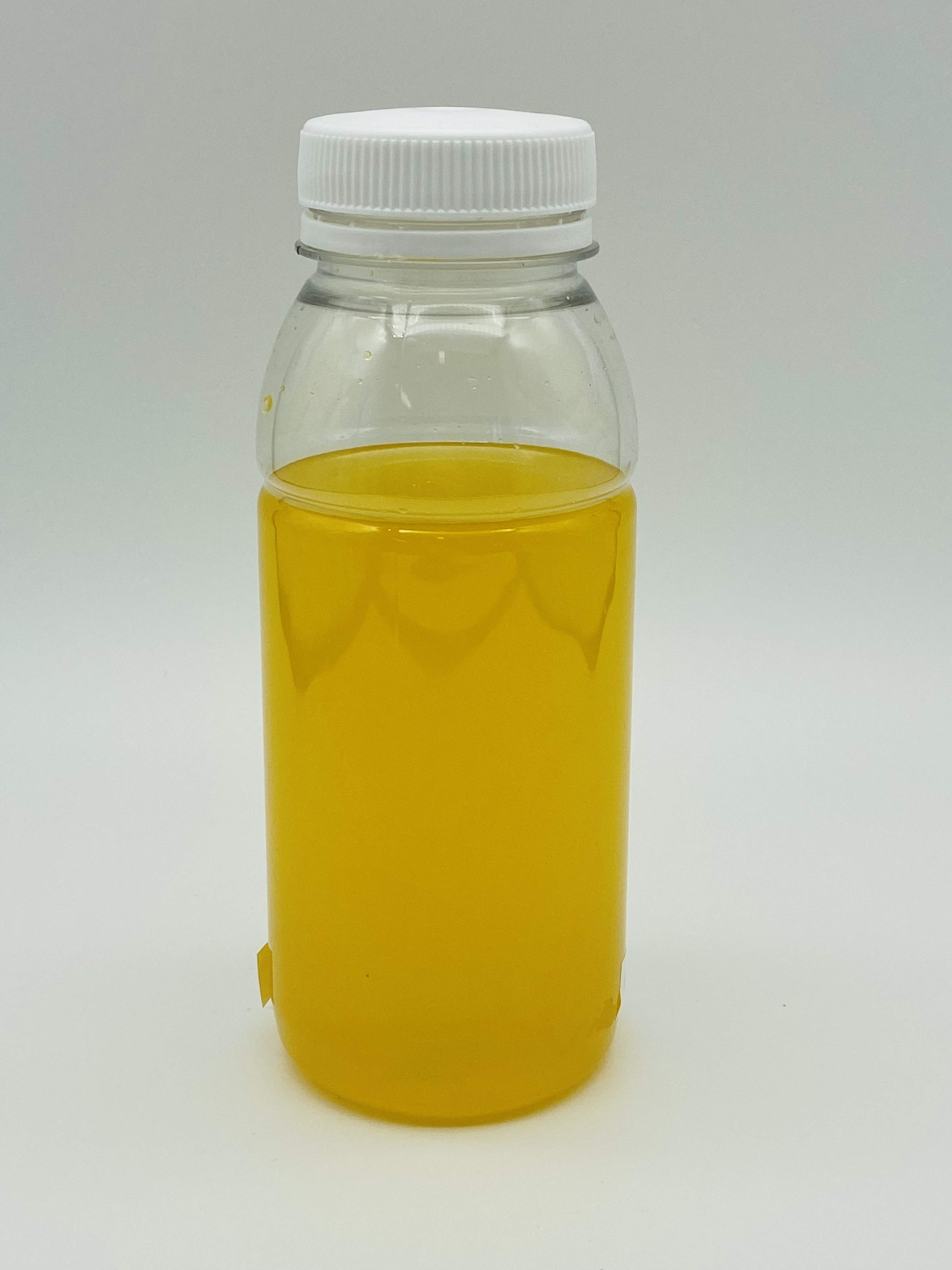 Suggested Applications: Bakery, Sports Nutrition, Confectionery, Dairy, Fat Based Products, Beverages, Sauces & Seasonings.
| pH | Excellent |
| --- | --- |
| Heat | Excellent |
| Light | Can be stabilised to light with the addition of Natural Antioxidants. |
PAPRIKA E160C
Paprika is a natural orange colour made from the dried fruits of the sweet Bell Pepper plant Capsicum annum.
Paprika oleoresin is an oil-based extract responsible for giving bright orange and red colours. As the oleoresin is oil-based, Plant-Ex have developed a variety of water-soluble paprika emulsions which can produce vivid, clear or cloudy orange hues in beverages or sauces. Plant-Ex also manufacture oil-soluble liquid paprika, and water-soluble paprika powders.
Paprika Extract can be declared on the back of pack as either 'Colour: E160c' or 'Paprika Extract'. It can be Clean-Label because cold pressed Paprika extract is made without the use of solvent extraction, and is therefore considered a food ingredient.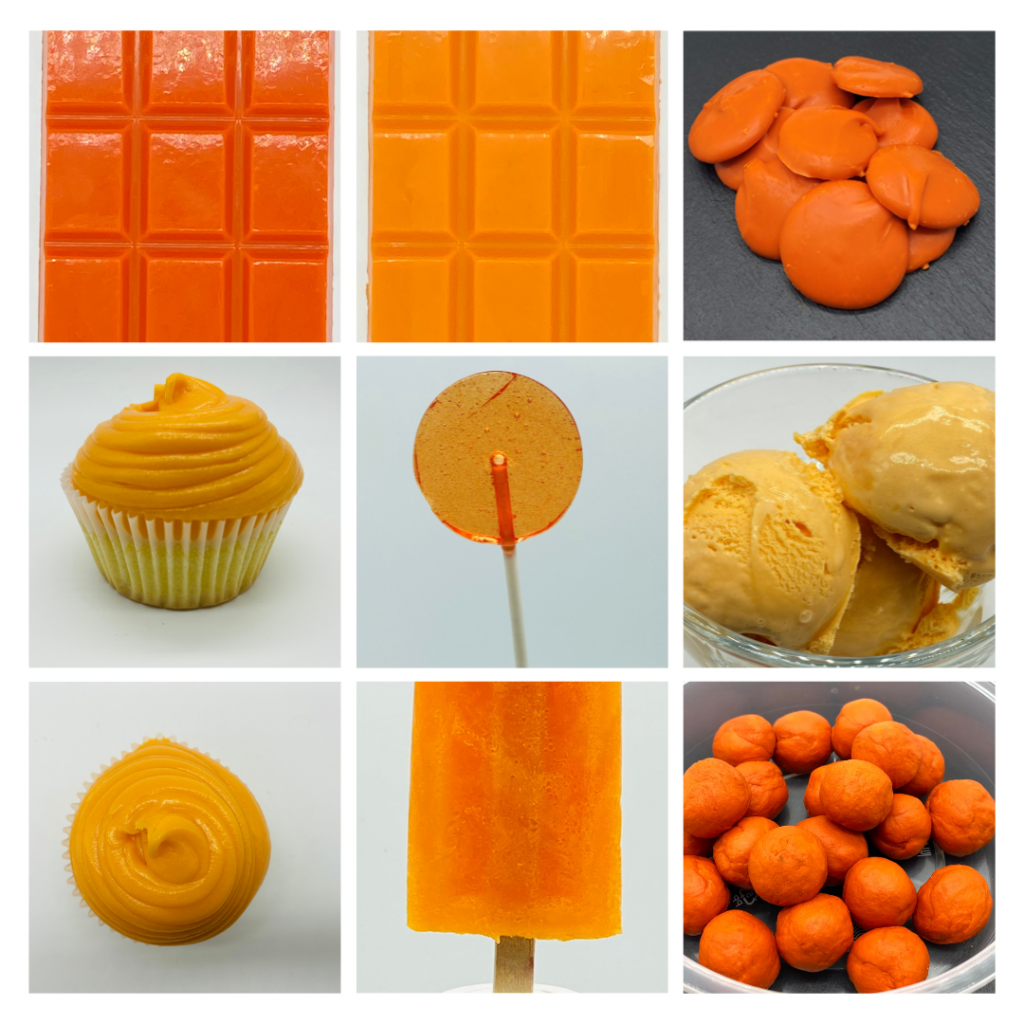 Due to paprika being used as a popular natural colourant, the pigments may sometimes be at risk of degradation through oxidation. This can in turn impact a product or brand negatively, whereby the consumer may perceive the product as lower quality than those with bright and vibrant colours.
The Plant-Ex Food Protection System Team are dedicated to improving stability and shelf life, and worked alongside the Colours Team in order to create a portfolio of fortified light-stable paprika products. These products contain combinations of antioxidants capable of retarding peroxides and their growth rate. As a result, our paprika products will not fade when used in the end application.
Further research:
The below study demonstrates a standard Paprika Oleoresin, compared with the same raw material with both a 1% and 2% inclusion of an FPS Anti-Oxidant blend. Under accelerated UV light testing conditions where an hour of exposure is the equivalent of twelve hours of daylight, the Anti-Oxidant protected oleoresins demonstrate a far higher level of stability. This means that both the colour and the rancidity of a product remain within acceptable boundaries for a greater period of time.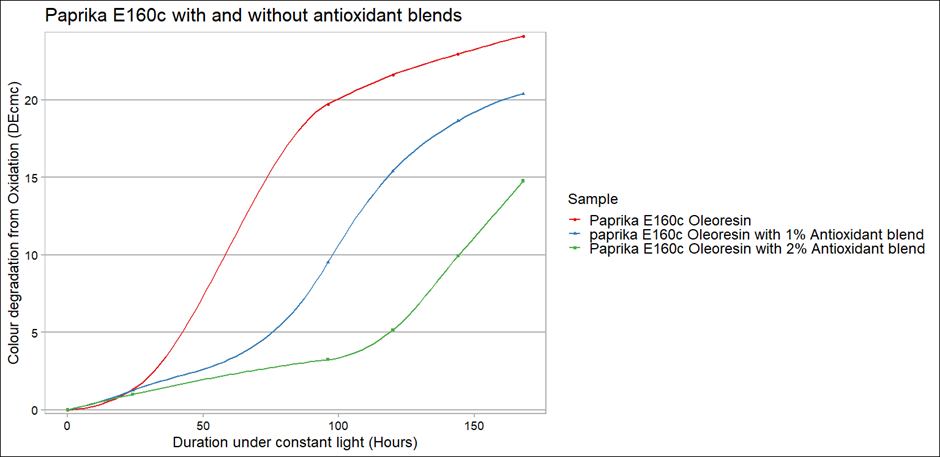 Suggested Applications: Bakery, Confectionery, Dairy, Fat based Applications, Meat & Meat Replacements, Sports Nutrition, Sauces & Seasonings.
*when blended with anti-oxidants.
ANNATTO E160B
Annatto is a food colour derived from the seeds of the Achiote tree Bixa Orellana. In some parts of the world, Annatto is used for its mild spicy flavour, as well as its intense orange-red colour. The pigments responsible for the orange-red colour hue are known as Bixin and Norbixin and are part of the Carotenoid family. Bixin is an oil-based pigment extracted from the outside of the Annatto seed and produces deep orange-red colours. Norbixin is a water-soluble pigment obtained using aqueous-alcoholic extraction of the Annatto seed. It is used to produce warm yellow-orange colours.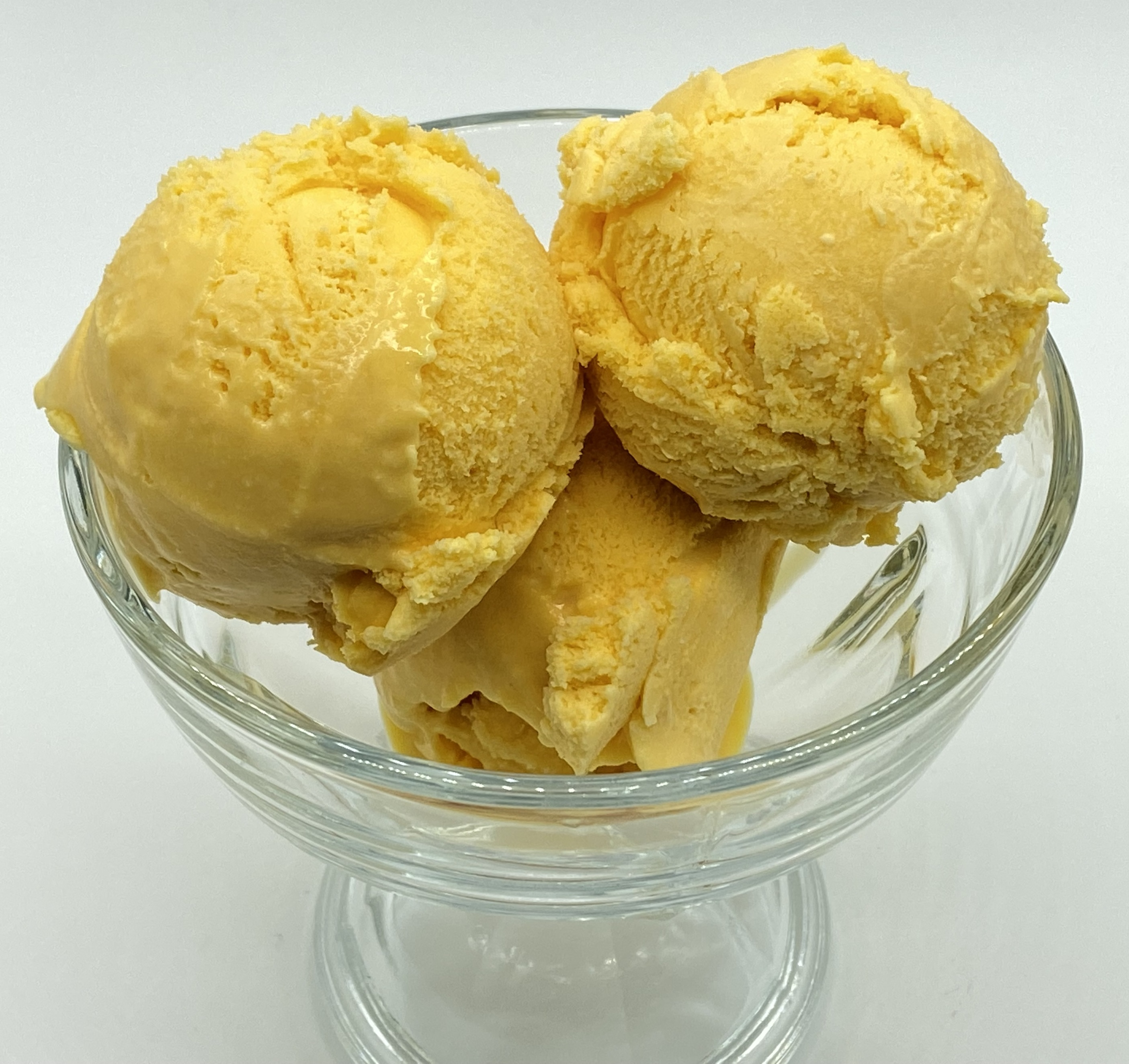 Annatto is available from Plant-Ex as oil-soluble and water-soluble liquids, as well as water-soluble powders.
It has very good heat stability with the Norbixin-based colour particularly suited to dairy applications such as ice cream, and the Bixin-based colour suited to cheese manufacturing.
Suggested Applications: Bakery, Confectionery, Beverages, Snacks, Sauces & Seasonings, Dairy, Sports Nutrition.
| pH | Best suited to Neutral and Alkali pH |
| --- | --- |
| Heat | Good* |
| Light | Good* |
*Can be increased with antioxidants.
Plant-Ex is fully compliant with EU Regulation 2020/771, offering a complete portfolio of Annatto-based colours ready for the implemented change in January.
ORANGE BLEND
Although Plant-Ex has a range of natural orange colours within our colours division, we have also created an orange colour blend. This is a blend of Safflower and Black Carrot Concentrate, producing a bright orange colour in a water-soluble, liquid format.
Safflower is a water-based colour extracted from the plant Carthamus tinctorius. Used as a food ingredient around the world, Safflower produces a clear, bright yellow colour.
Black Carrot is a root vegetable cultivated primarily in Turkey; Black or Purple Carrot produces a deep red colour and has a wider pH range than some Anthocyanins.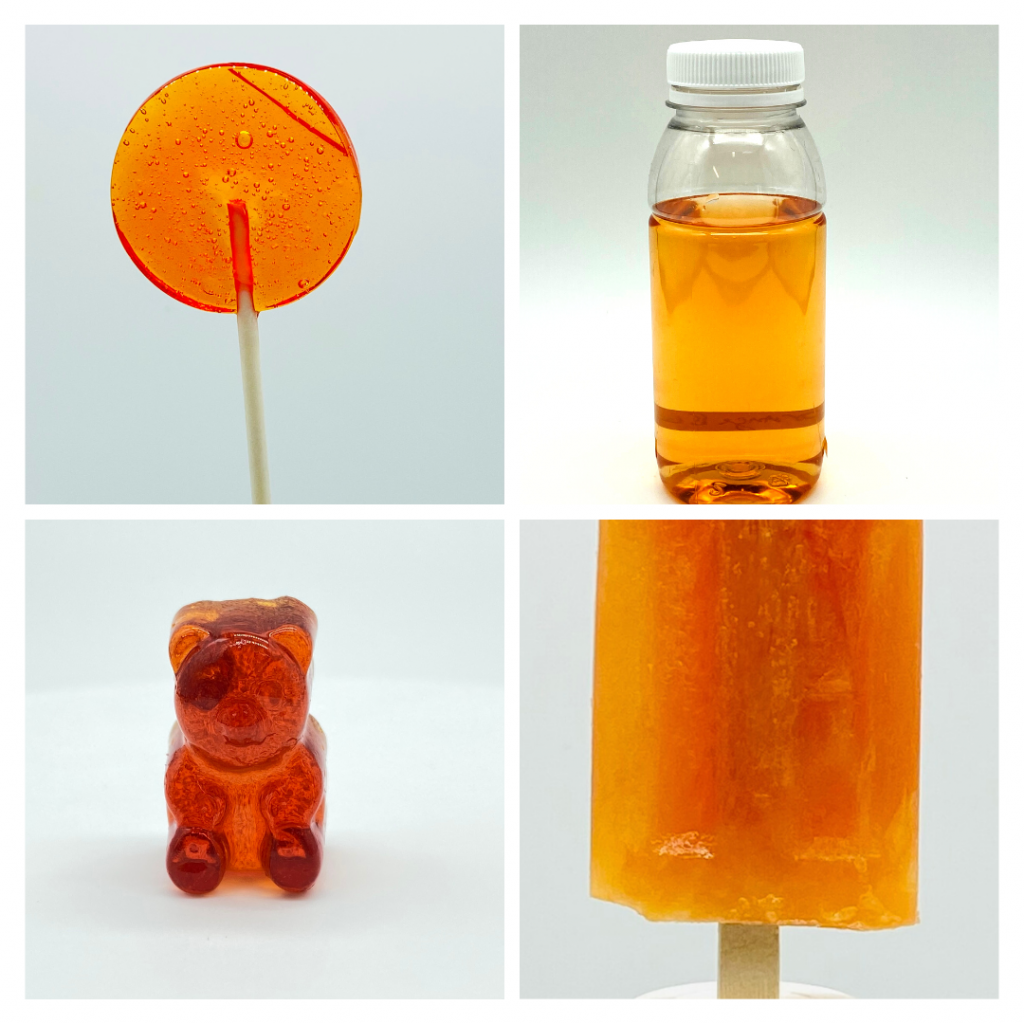 This blend is only available as a water-soluble liquid.
Suggested Applications: Jellies & Jams, Confectionery, Ice Cream, Beverages, Frostings & Icings.
To request samples of any of the above-mentioned colours, or to find out what flavours to use alongside our orange colours, email us today: sales@plant-ex.com.