The Plant-Ex Research and Marketing Teams have been working hard to discover the upcoming flavour trends taking place over the course of the next 3-5 years. This study was conducted for each continent in order to highlight the variety of flavour profiles enjoyed globally. In this article, we will be sharing our findings for the UK and Europe's top flavour trends, divided into different sectors. ​
Trend Drivers:
Innovation: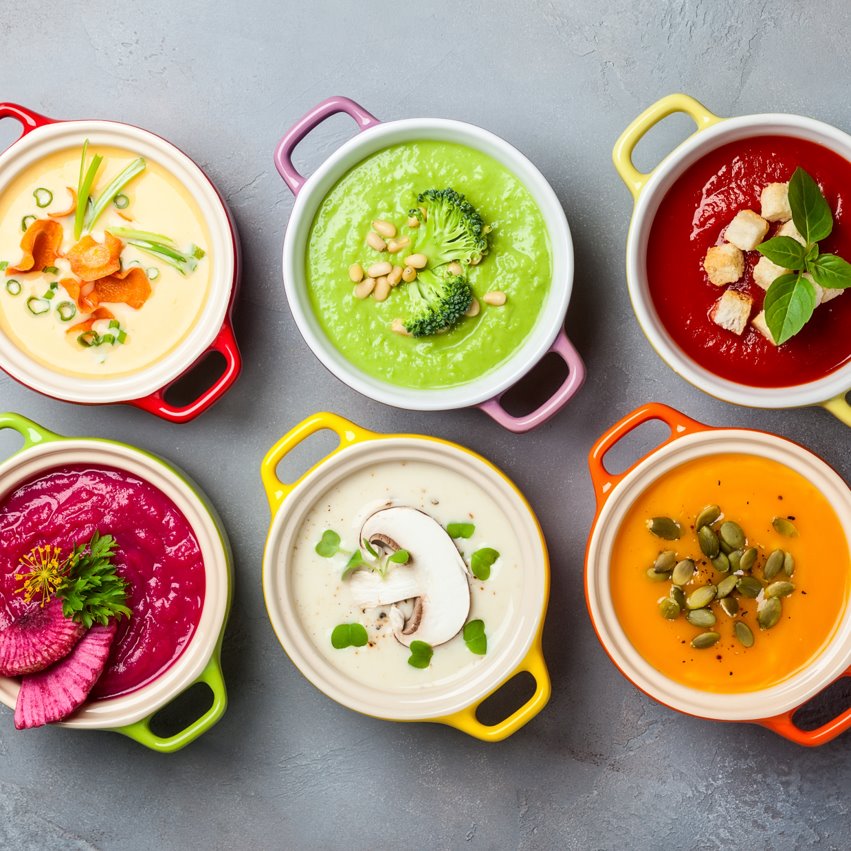 Innovation is a key driver of flavour trends in Europe. As consumer tastes evolve, companies are constantly innovating in order to keep up with the changing demands. An example of this would be the rising popularity of plant-based foods, which has led to a surge in the development of new vegan and vegetarian products.
However, it's not all about creating new products; sometimes it is a case of improving an existing product. Through innovation, companies are able to improve the​ quality of their products and make them more appealing to consumers. This has led to an increase in flavour 'upgrades', where classic flavours are given a twist with new ingredients – an example being dark chocolate & mandarin, which is a take on the classic chocolate orange combination.
So, whether it's developing new flavours or improving existing ones, innovation is a key part of keeping up with the latest flavour trends in Europe.​
Adventure: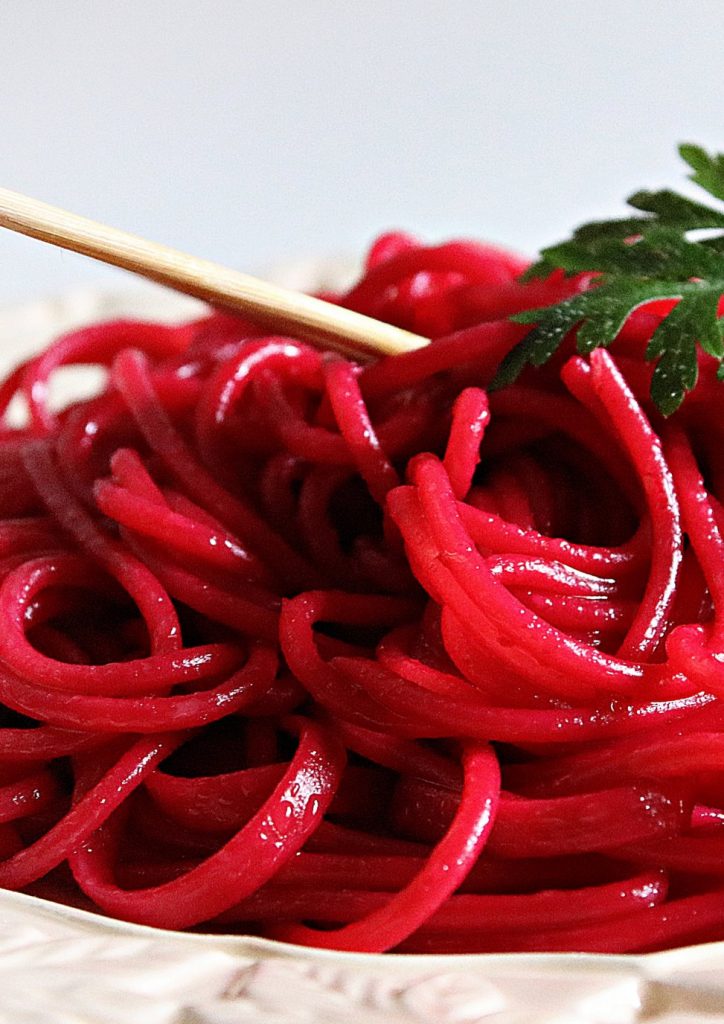 Europe has long been considered the Grand Bazaar of flavours, with a wide variety of cultures and cuisines all competing for space on shelves and menus. ​
But in recent years, there has been a shift towards more adventurous flavours, as consumers become more curiosity-driven and open to trying new things. Adventurous flavour trends are being driven by a number of factors, including the rise of social media (foods needing to be 'instagrammable') and the popularity of travel and food blogs. Seeing friends and influencers trying new and exciting foods is inspiring people to be more adventurous with their own flavour choices.​
Flavour Trends:
Sweet: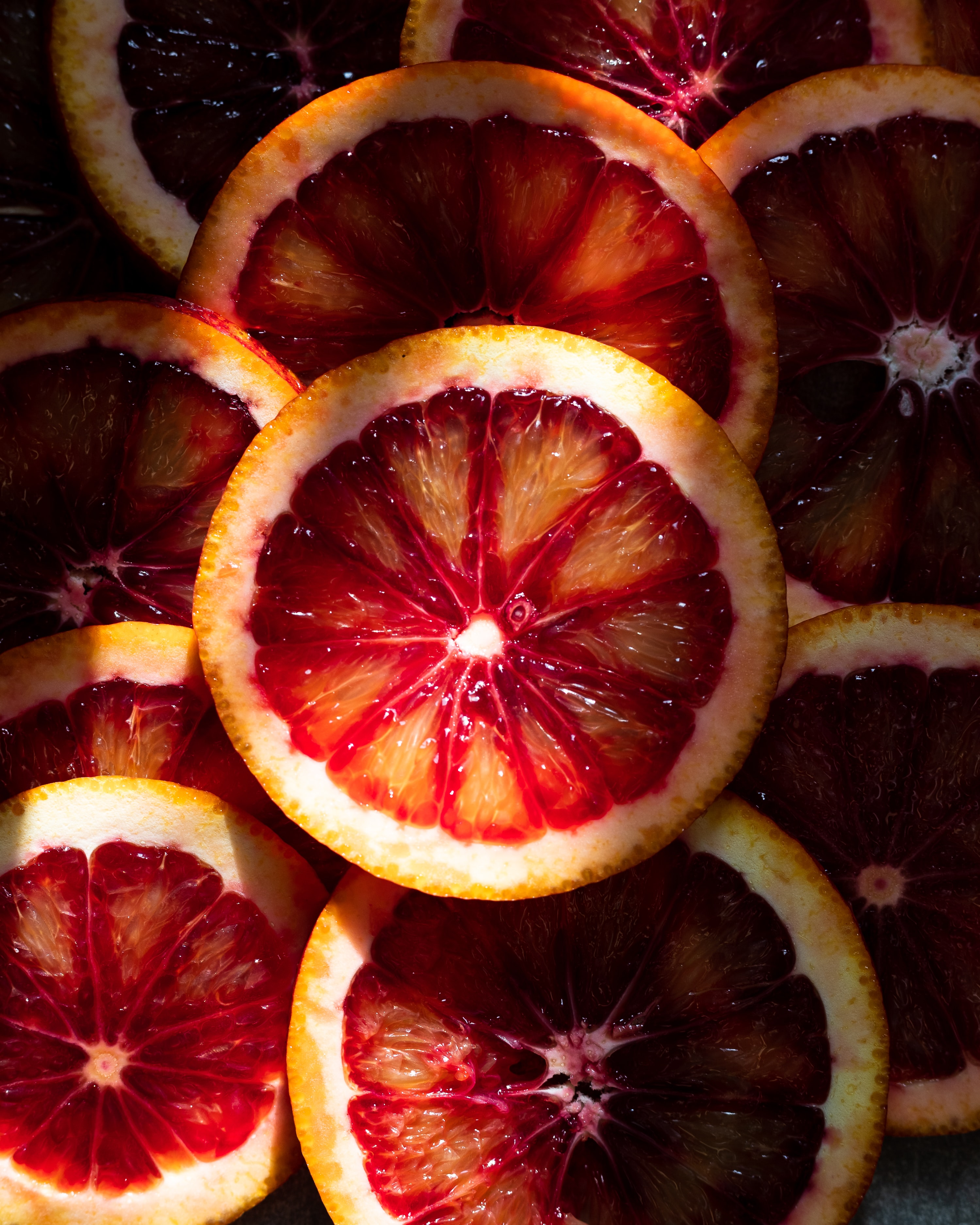 Flavour trends in the confectionery and bakery categories are always evolving… What's popular today may not be popular tomorrow! That's why it's important for brands to stay on top of emerging trends and adapt their products accordingly.​
To help you stay updated, we have conducted research to understand what is currently the consumers' favourite flavours and what they'll be excited to see on shelves.​
One flavour that is becoming increasingly popular is Blood Orange. Blood oranges are loved for their traditional orange notes that are infused with tangy red grapefruit making the flavour sweeter and more tart than the regular orange.
Sweet Flavours:
The flavours listed below include the current and upcoming flavour trends for products in the 'sweet' category; for example flavours for:
Gummies
Hard Candies
Chocolate
Marshmallows
Biscuits
Cakes
Icing & Buttercream
Savoury: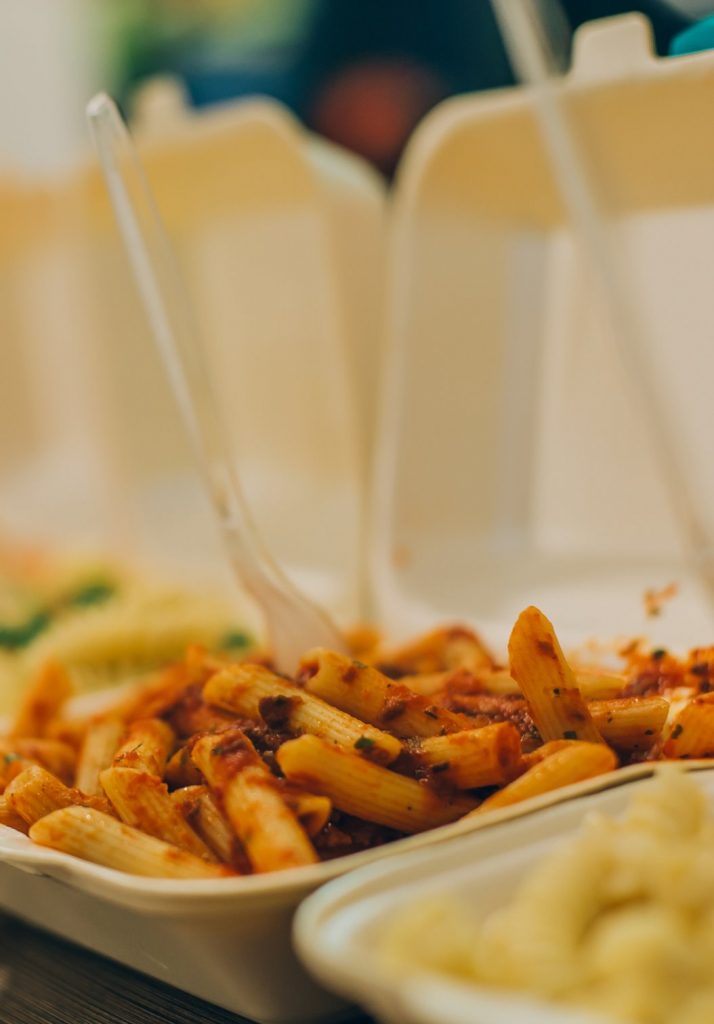 In recent years, there has been a growing trend for more exotic and adventurous flavours in ready meals, soups, seasoning blends, sauces, meat rubs and savoury snacks. ​
This is likely due to the increasing popularity of international cuisine, as well as a growing desire for more bold and more exciting flavours. Some of the more popular flavour trends include spicy and bold flavours, as well as sweet and savoury combinations. Other popular flavour profiles in the savoury sector include citrus, smokey and umami. If you're looking to add some excitement to your product range, then the next page provides the sorts of flavours you should be considering.​
Savoury Flavours:
The flavours listed below include the current and upcoming flavour trends for products in the savoury category, for example flavours for:
Ready meals
Soups
Seasoning blends
Sauces
Meat rubs
Savoury snacks and more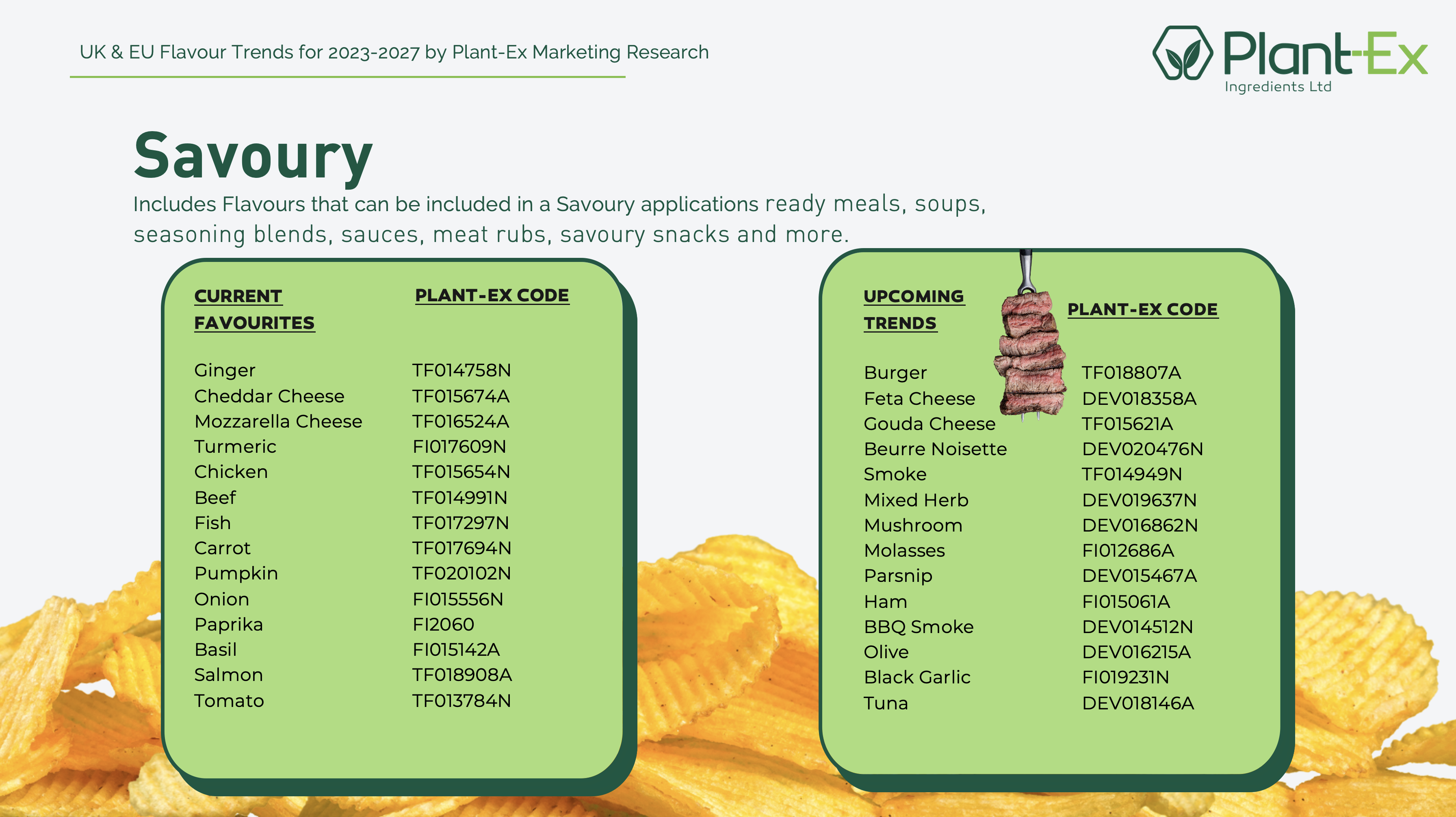 Carbonated Drinks: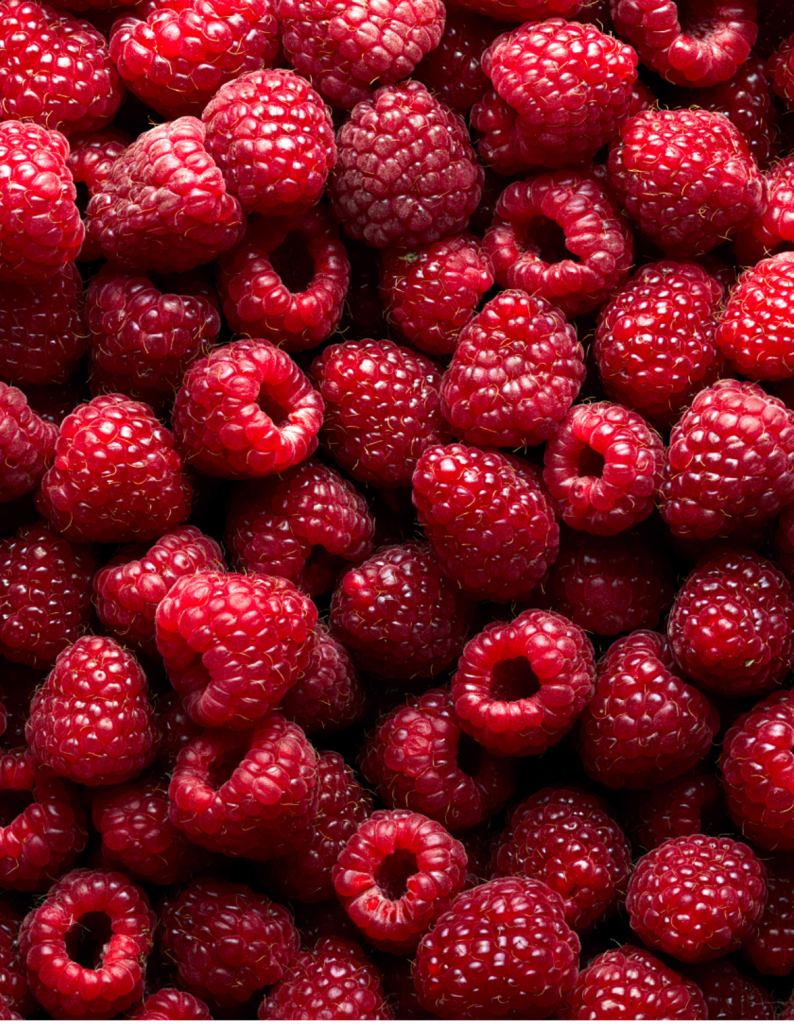 Flavoured water, energy drinks, and mixers are becoming increasingly popular, with new flavours and variations being released all the time. But what are the latest flavour trends? ​
Some of the most popular flavours in water, flavoured water, and energy drinks include citrus, berry, and tropical fruits. Other popular flavours include mint and cucumber. And in terms of mixers, lemon remains the most popular choice, followed by cola.
Fruit and Dairy Drinks: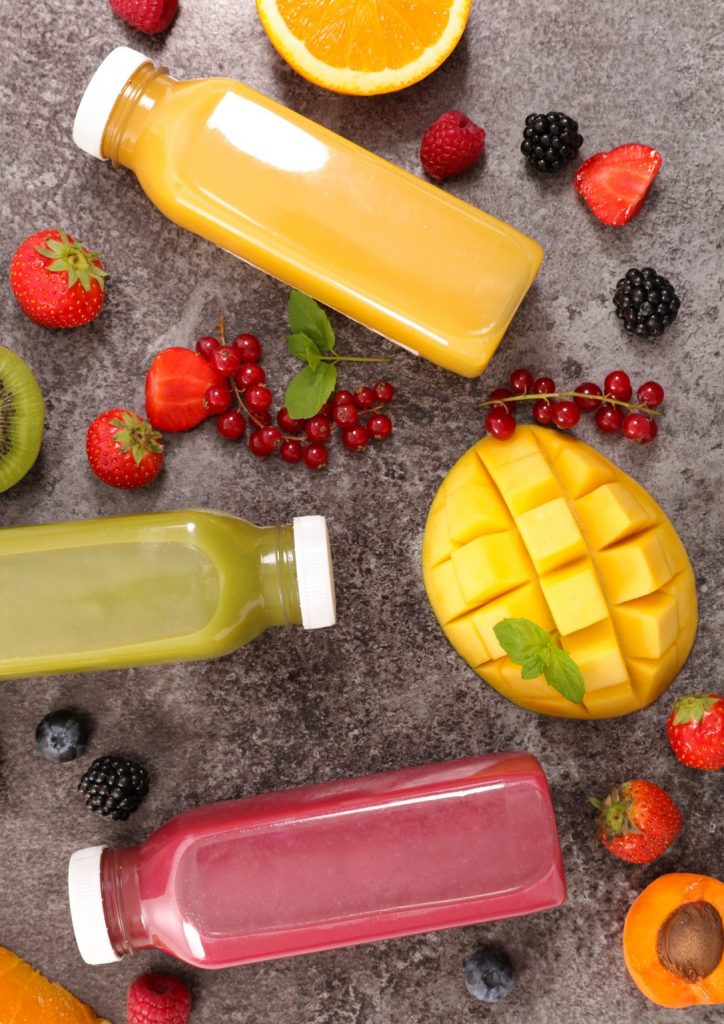 Fruit and vegetable juices, nectars, smoothies, and dairy drinks are some of the most consumed beverages worldwide. In recent years, there has been a shift in consumer preferences towards healthier options, and as a result many companies have reformulated their products to meet this demand, such as reducing the sugar content and increasing the variety of fruits and vegetables within the drinks. ​
All smoothies, juices and dairy drinks are experiencing exciting flavour trends at the moment. From dragon fruit to fudge, they're only getting more innovative!
Fruit and Dairy Drink Flavours:
The flavours listed below include the current and upcoming flavour trends for products in the beverage category, for example, flavours for:
Juices
Nectars
Smoothies
Milkshakes
Slimming Drinks
Protein Shakes and More!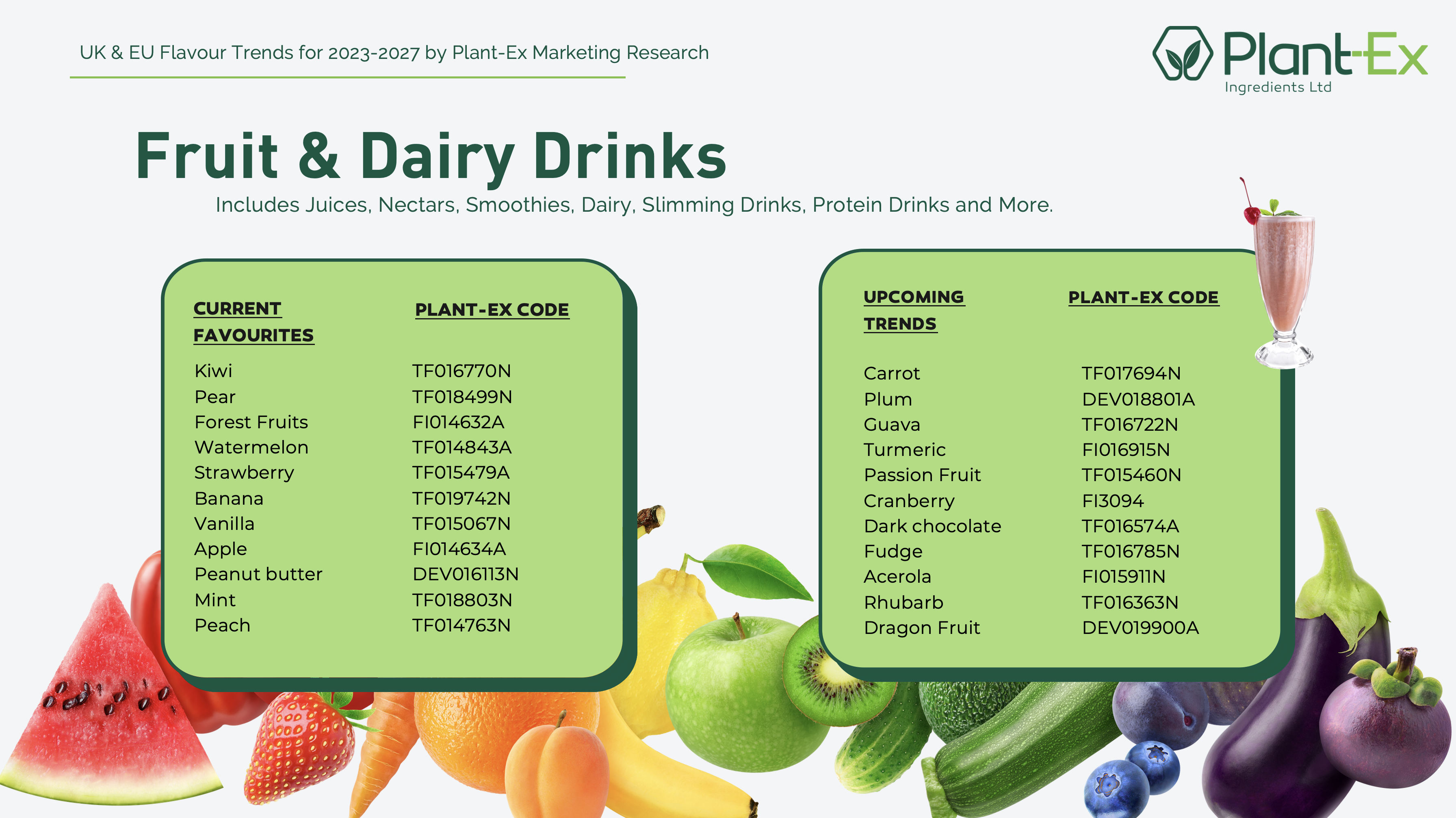 Hot Drinks: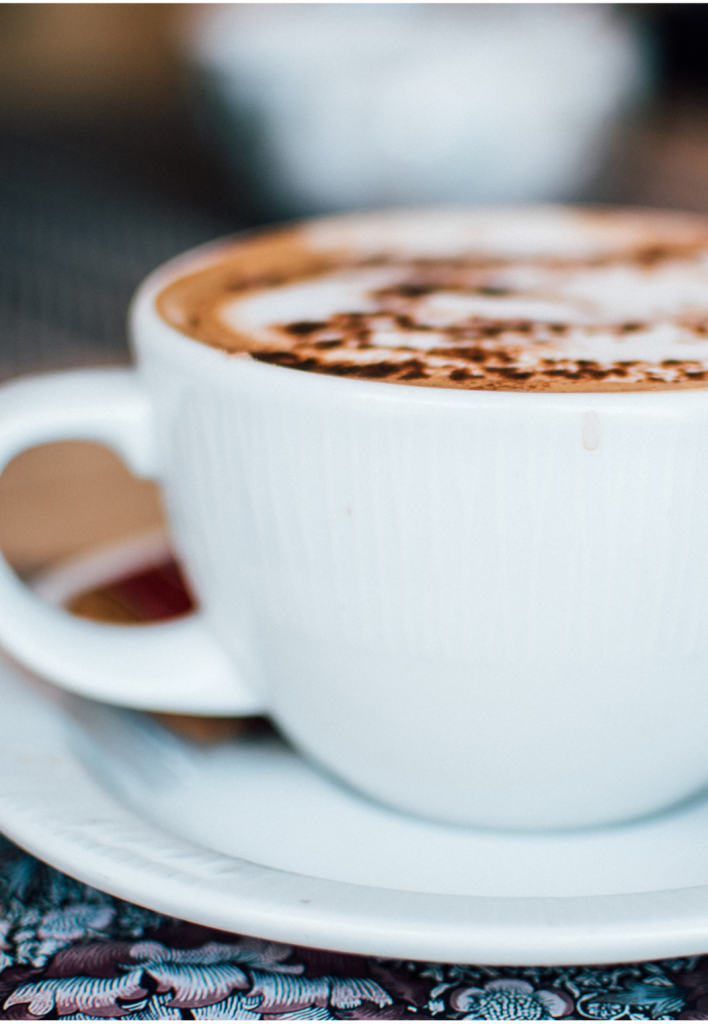 As we move into Autumn and Winter, we start to see different flavour trends emerge in our favourite hot drinks. Coffee shops bring out seasonal flavoured syrups like 'pumpkin spice' or 'peppermint' for use in coffees and hot chocolates, while teas are often infused with warming spices like cinnamon and ginger. For the upcoming years, we have forecasted a trend towards more exotic flavours in all of our favourite hot drinks. Coffee shops are experimenting with flavours like orange blossom, yuzu and even rose, while tea companies are offering unique blends like Earl Grey Jasmine and Hibiscus.
Hot Drink Flavours:
The flavours listed below include the current and upcoming flavour trends for products in the carbonated drinks category, for example, flavours for: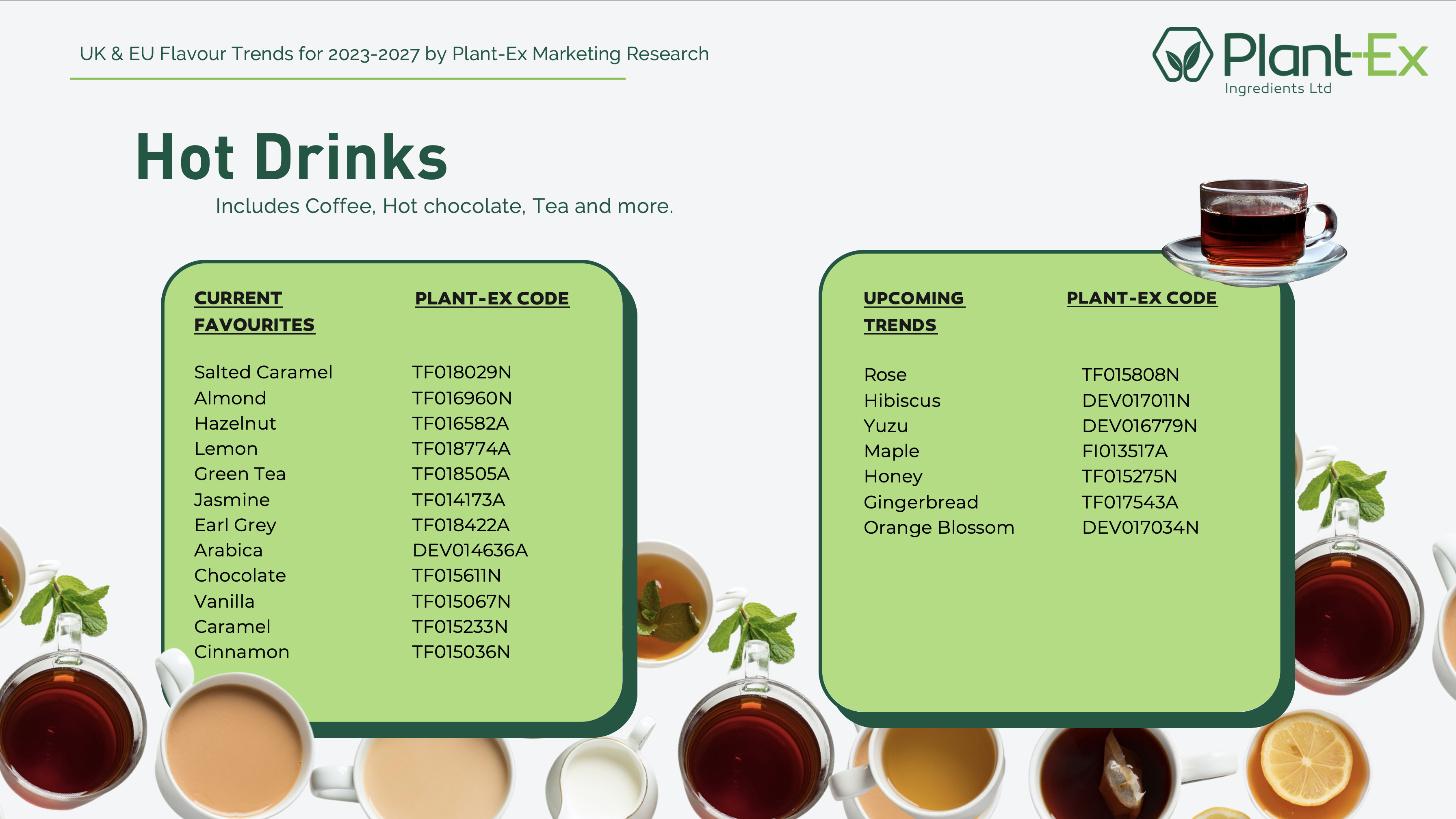 More Trend Research: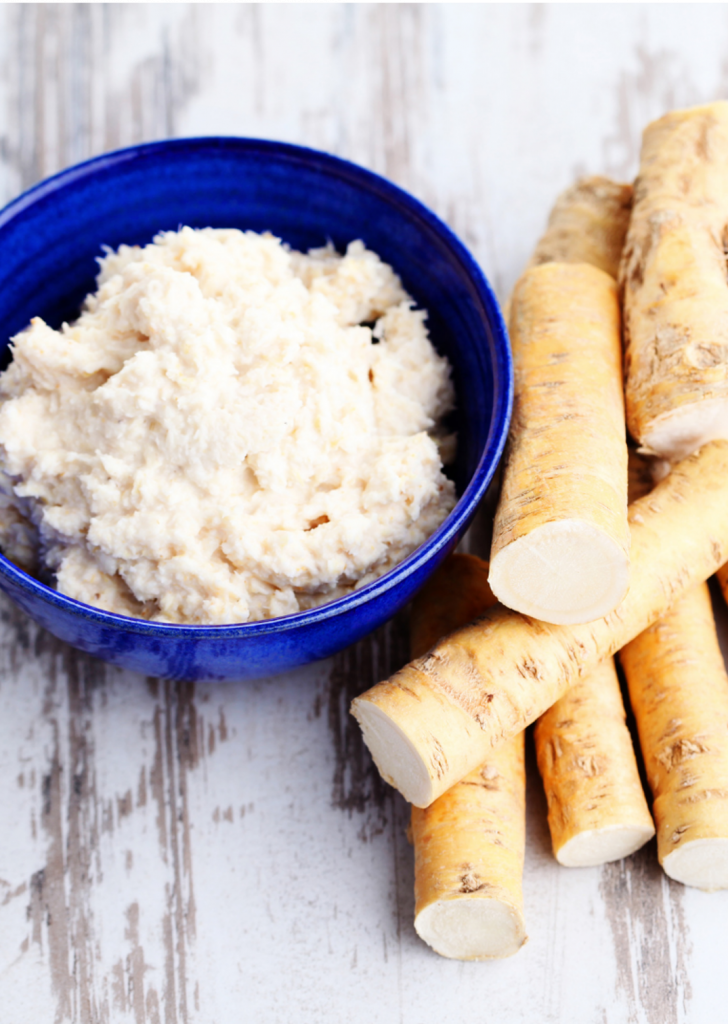 Our research study has been the biggest we have conducted to date. We have done the same research for several other regions.​
Subscribe to our newsletter to see our upcoming flavour trends for the following regions: ​
North America ​
South America ​
North Africa ​
Middle East & Turkey
If you have any questions or need assistance in choosing the right ingredients for your product our team will be happy to help.​ Email us at sales@plant-ex.com​ for samples of any of the above products, and happy innovating!