Manufacturers use the colour purple to promote good quality, and it helps to encourage people to eat healthier and try new and exciting foods. Portraying healthiness in your food and beverages is becoming more and more important, as healthy eating has become a dominant trend this year.
Purple is very rare in food and drink, making it stand out to customers. The colour of your product is extremely important, as it's the first thing consumers see when looking at supermarket shelves. You can achieve a variety of purple colours, deriving from different natural sources.
We're here to show you what you can achieve with Plant-Ex's purple colours, so sit back and keep on reading…
Purple Colour Blends
Plant-Ex's portfolio contains a few different purple blends allowing you to achieve various shades, from a pastel violet to a deep purple. This year, consumers are stepping more and more out of their comfort zones, so what better way to encourage this than by adding purple colours to your new product launches.
Whether you are after a powder or liquid, water or oil soluble, or you're seeking a colour with an E-number or it needs to be fully clean-label, our technical team have developed a range of purple colours to help suit your requirements.
CF014778A Violet Blend:
Plant-Ex has manufactured a violet blend using Spirulina and Red Beet to create a water-soluble liquid with a lilac hue. There are no additional additives, meaning this colour holds a clean-label declaration to meet growing demands for natural ingredients – you can declare this as 'Spirulina Extract, Red Beet Juice' on your back of pack.
Due to this blend being made up of Spirulina and Red Beet, it is not a heat-stable colour. This needs to be considered when being used in manufacturing processes that contain an element of heat. So, while it wouldn't be suitable for baking, you can try it on an icing fondant.
When using this violet blend, we'd recommend pairing with flavours like grape or lavender!
DEV013633A Natural Purple OS:
If you're after a new colour that is going to grab consumers' attention this year, look no further. Plant-Ex's colour specialists have created an oil-soluble purple blend that is also made with a blend of Spirulina and Red Beet, which has been dispersed onto an oil carrier to render it oil-soluble.
By providing an oil-soluble alternative, you can use this blend in your fatty applications, such as chocolate. With Easter around the corner… why not try a sample? Alternatively, use in your Halloween 2023 creations.
If you are interested in creating coloured chocolate, read our Ultimate Chocolate Guide Blog, which takes you through our most recommended oil-soluble colours, alongside recommended dosages.
Anthocyanins
Another popular way to achieve various different purple colours is through the use of anthocyanins – these are widely used in the food and beverage industry due to their endless possibilities all whilst keeping a clean-label.
Anthocyanins generally have good heat stability and can even be used in bakery applications; however, it should be noted that the colour will not be purple if the pH of the application is not acidic.
Red Cabbage Extract
Red Cabbage is extracted from the leaves of Brassica Oleracea, and produces pink-purple shades at acidic pH. At alkali and for the first 24 hours, the colour goes blue however it does not remain this shade.
Red Cabbage Extract is a member of the anthocyanin family, like most purple shades are! It is clean-label and so can be declared as 'Red Cabbage Concentrate' on the back of pack, which is ideal for health-conscious consumers.
Red Cabbage Extract is heat stable and light stable, so is great for bakery and beverage applications. Most commonly, it is used in fruit preps and jams, but the possibilities are endless! It is worth noting, it is one of the more expensive anthocyanin products.

Grapeskin Extract
Grapeskin is a member of the anthocyanin family, and the colour is extracted from the left-over skins of grapes used in the winemaking process… we love minimal food waste! Typically, grapeskin extract gives a light purple-pink shade, and is very popular in beverages and jam production.
It can be declared as either: Colour (Anthocyanins) or Colour: E163.
Stability-wise, grapeskin extract is not stable to pH (like all anthocyanins). It is not very light stable, but is heat stable – so long as the application is acidic!
PLEASE NOTE: Grapeskin Extract carries a sulphur dioxide allergen.
Purple Sweet Potato Extract
Purple Sweet Potato extract is derived from sweet potato itself – it's in the name. It is widely used in the food and beverage industry to create a dark purple-violet colour in neutral applications.
As it is derived from natural sources, it can be labelled as 'Purple Sweet Potato Concentrate'.
It is highly recommended in a purple velvet cake, berry fruit twist ice cream or even a spiced vegetable soup.
Black Carrot Extract:
Black Carrot extract is the most cost-effective anthocyanin extract. Derived from black carrots, the shades given range from deep pinks to purples, depending on the pH. This is a clean-label food ingredient used to replace artificial red colours such as Ponceau 4R, as well as being a great Vegetarian and Vegan alternative to Carmine. There is strong consumer demand for simple, clean-label and more natural ingredients on food and beverage packaging.
Black carrot is the most popular antho sold by Plant-Ex, and we are very price competitive on this product! Enquire today about receiving a sample. We'd recommend black carrot in all applications – from bakery to beverage, confectionery and even dairy.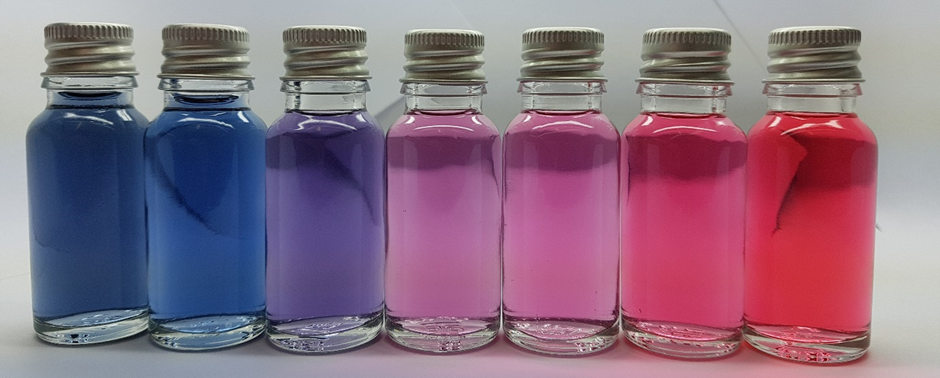 For more information on our anthos, check out our blog post here.