Is it really a surprise that Vanilla is considered to be the world's favourite flavour? A subtle but intoxicating combination of sweet, creamy, and floral notes. For any sweet application, Vanilla flavour is a go-to. Believe it or not, there are hundreds of different profiles to a vanilla flavour – from creamy to buttery; beany to woody. We want to break down the different flavour profiles of vanilla to help you understand what profile would be best suited to your application.
In this blog post, Plant-Ex will discuss the primary profiles of vanilla flavour, which combinations work best with vanilla flavour, as well as potential applications. So keep reading to find out more…
What does Vanilla flavour taste like?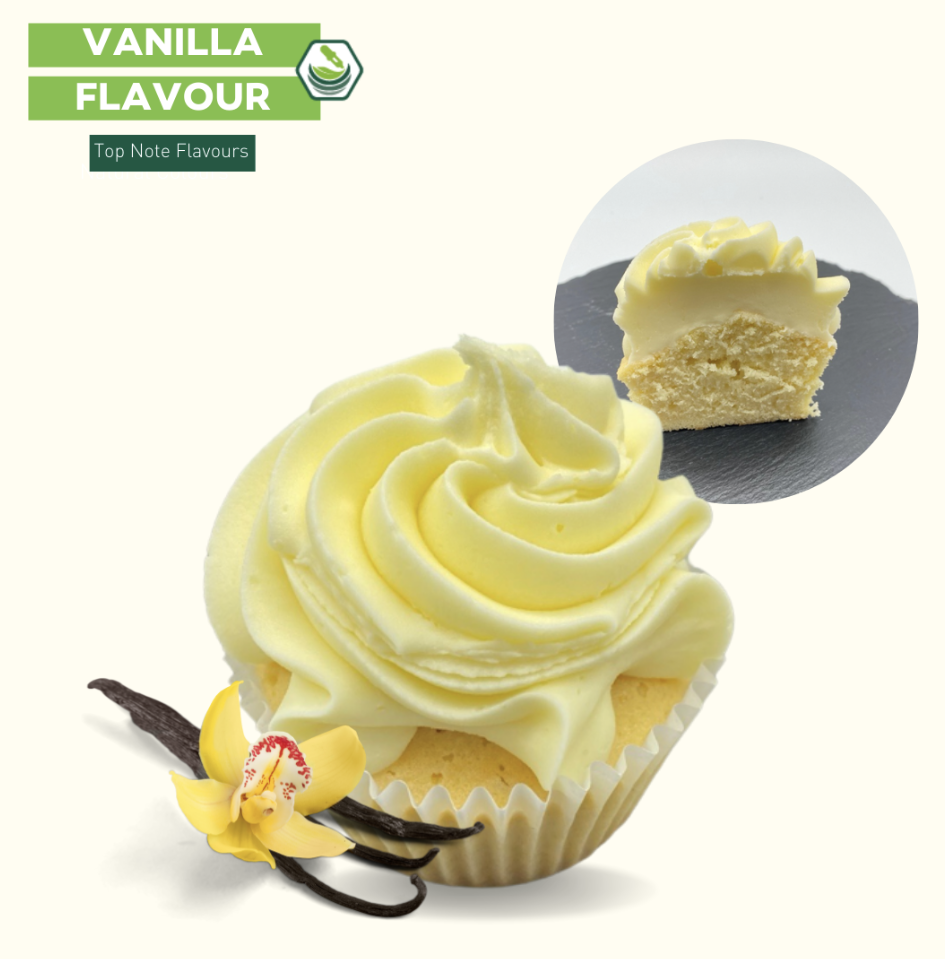 Vanilla is a sweet commodity; the flavour comes from an aromatic compound called vanillin, which is said to taste a little like marshmallows.
Generally, when thinking of vanilla flavour, your mind goes to a tub of vanilla ice cream, or a small bottle of vanilla extract that everyone has in their kitchen cupboards. But have you ever thought of how different these two products taste? Ingredient-wise, they are obviously very different, however if you think solely of the vanilla notes, they are still very different.
⚪️ Vanilla is quite delicate, sweet and slightly perfumey
Flavour Profiles of Vanilla
The flavour profiles of vanilla can be generally categorized into five key groups: Beany, Woody, Smokey, Creamy and Buttery.
Struggling to know which flavour profile will best suit your application? Plant-Ex has made life easier for you as we talk through each flavour profile in this blog post to help you make the right decision for your application, so keep reading on…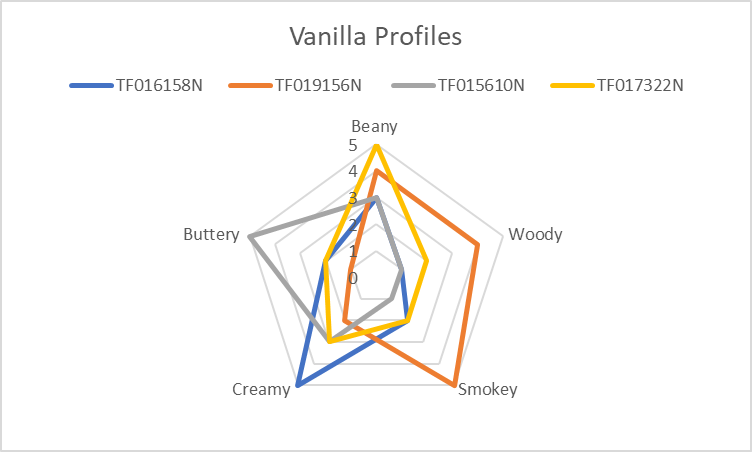 Beany
Woody
Smokey
Creamy
Buttery
The Difference Between Each Flavour Profile
To better understand each flavour profile and help customers understand the importance of selecting the right profile for their products, we speak through the differences in profiles.
Beany Vanilla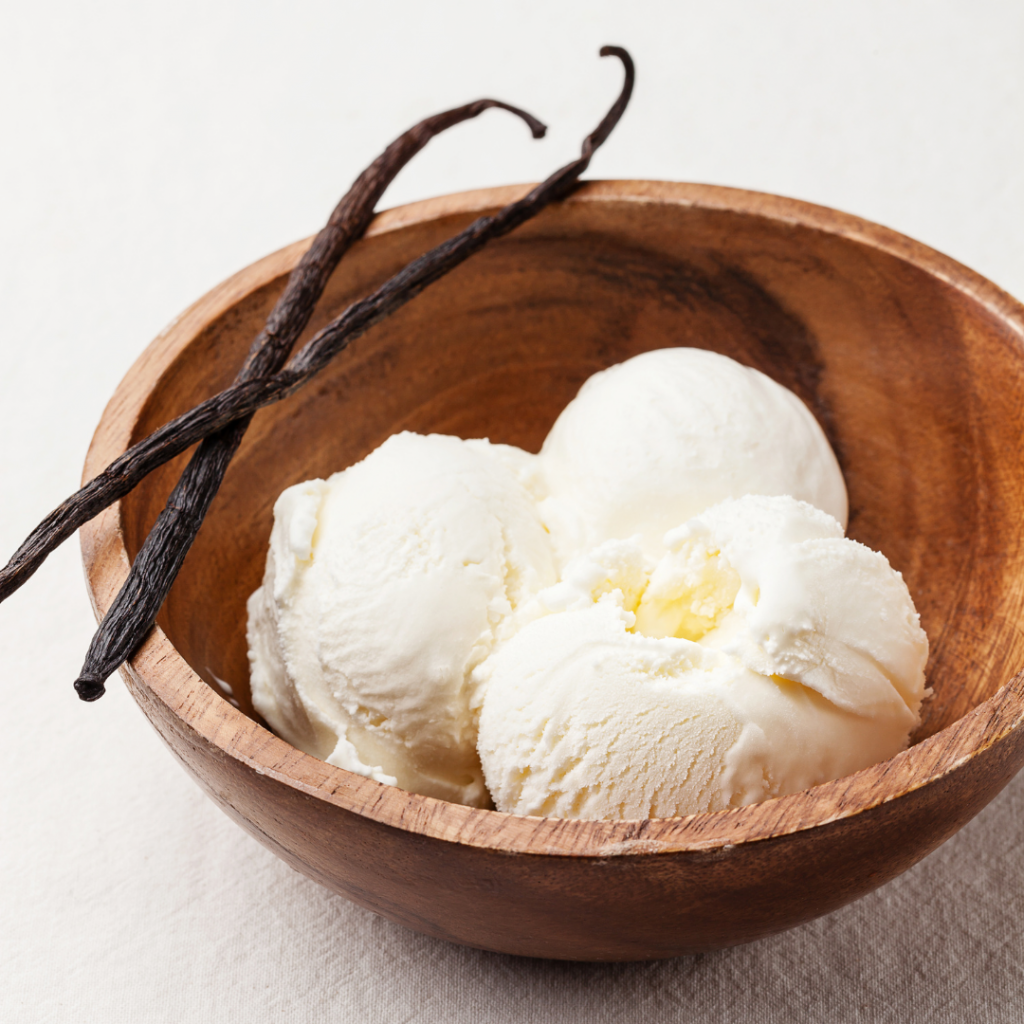 Vanilla extract is the product of extraction from vanilla beans – the little black specs found inside a vanilla pod which can often be seen in ice cream. It is the most 'natural' of vanilla flavour profiles, as its the profile associated with the actual source. It has an intense and slightly earthy aroma and flavour.
If you're looking to include a beany vanilla profile in your product, we'd recommend trying our 'Bourbon-Type Vanilla Flavour' available in liquid format, making it excellent for use in bakery and dairy products.
We'd recommend using a beany vanilla flavour in your ice creams and yoghurts. Add some vanilla beans for an extra natural look…
⚪️ A beany vanilla has the most intense flavour
Woody Vanilla
A woody vanilla profile is warm and rich with earthy undertones. Typically, a woody vanilla profile is one that can be tasted in red wine, as it compliments deeper and darker flavours (it imparts a creamy mouthfeel to both red and white wines). The notes are warm and rich, with earthy undertones, balanced with a delicate floral top note.
Often, this profile is used in beverages like red wine, however we'd also recommend trying this in a custard in order to achieve a more decadent profile.
⚪️ Think of a warm and rich dessert when trying to imagine this flavour
Smokey Vanilla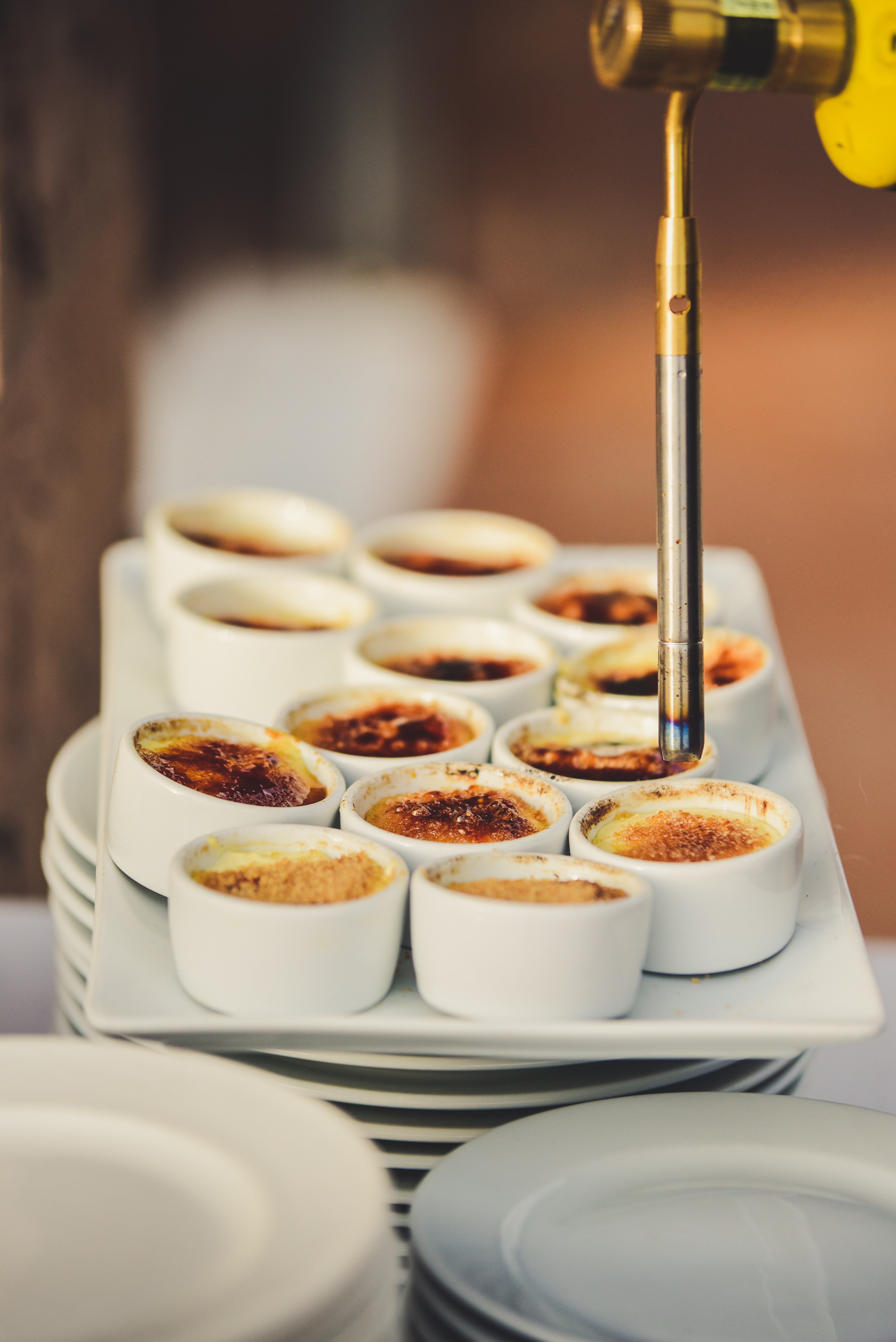 The contrast of rich smoke and delicate vanilla are what makes them pair so well – a smokey vanilla flavour has a profile similar to that of a woody vanilla, but with a subtle smoke top note.
Our NPD team recommend pairing a sharp cocoa flavour with a smokey vanilla flavour to create that distinguished flavour. It is a bold flavour, that can help make your product stand out.
⚪️ Add depth to your bakery products by using a smokey vanilla profile
Creamy Vanilla
Creamy vanilla is slightly more 'synthetic' tasting in comparison to a beany vanilla flavour, like that of a soft-serve whip ice cream. This particular profile tends to have added fatty notes within the flavour, emulating the feeling of a fatty mouthfeel and therefore delivering creaminess.
Plant-Ex manufactures creamy vanilla flavours as both liquids and powders; use a creamy vanilla flavour liquid in your cream liqueur beverages for a silky smooth finish! This would soften the alcohol notes while sweetening the cream. Alternatively, use our 'Vanilla Ice Cream' flavour powder in a protein powder pairing the creaminess of the flavour with the whey protein.
⚪️ Creamy vanilla is best described as a smooth flavour with fatty notes
Buttery Vanilla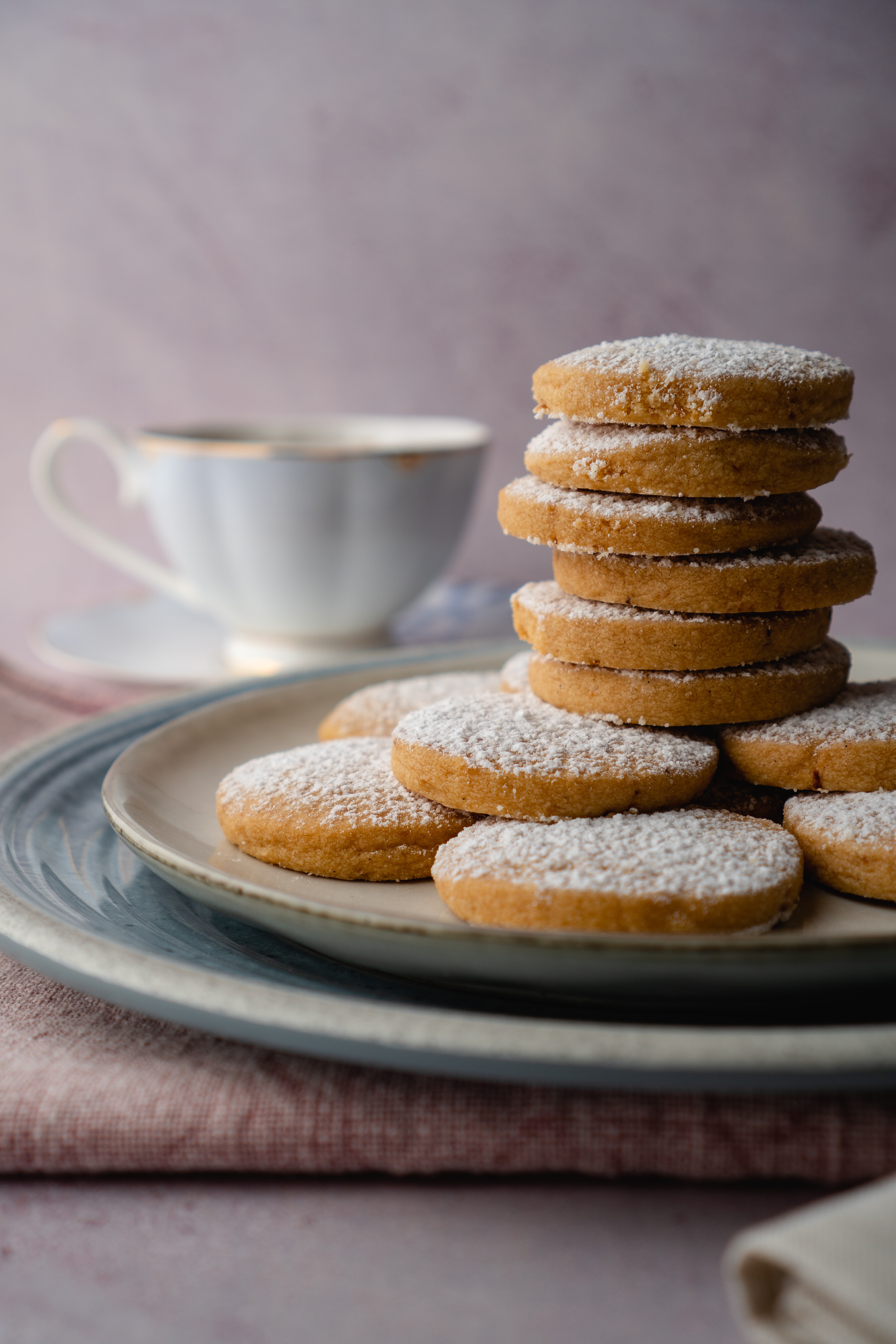 A buttery vanilla flavour is similar to the profile you find in shortbread biscuits – the flavour is quite subtle and delicate, with a predominant fatty profile.
Our NPD team would recommend using a buttery vanilla flavour in baked goods and fillings to effectively add that buttery taste with components of vanilla.
⚪️ Think of your classic patisserie with delicious vanilla baked goods
Where can I use Vanilla Flavour?
Vanilla has been one of the top 3 flavours globally for a long time, and there's good reason for it! From ice cream, milk shakes and yoghurts from the Dairy Sector, to cupcakes, biscuits and custard tarts in the Bakery sector, we recommend using vanilla flavour in all sweet applications. You're not 'vanilla' for liking vanilla!
What Flavours goes best with Vanilla?
Vanilla pairs well alongside a lot of other sweet flavours due to its versatility. Continue reading to see what our experts recommend!
Raspberry – Delicious raspberry ripple flavour can be created by mixing vanilla flavour and raspberry flavour.
Chocolate – Mix mostly vanilla flavour with a small amount of chocolate flavour if you're trying to replicate a cookie flavour!
Mango – Especially great for a yoghurt with fruit prep!
Enjoying our flavour profile posts and want to find out more? Read our Strawberry Flavour Profiles post here: https://www.plant-ex.com/what-does-strawberry-flavour-taste-like/