Bring brightness to your product with a bright yellow to orange profile with a clear finish. Neutral taste profile.
Natural Beta Carotene is suitable for high-temperature thermal processing, such as UHT, HTST as well as confectionery and bakery applications.
Besides, it is formulated with antioxidants to help stabilise the pigment from UV degradation over the course of its shelf life.
Thermal processes don't affect the colour, it is heat stable and the shade will not be affected.
Optimum pH: 3 – 8
This product is stable across a wide pH range and the colour shade will not be affected.
Applications: rehydration and sports nutrition, energy drinks, vitamin and mineral drinks, soft carbonated drinks. Confectionery – hard-boiled candy and clear sweets. Sauces, seasonings, and glazes. Bakery – fillings and toppings, Dairy and Vegan alternatives – Cheese, Butter, Spreads, Milk-based beverages.
Natural Beta Carotene has been specially formulated to produce a crystal-clear, yellow colour. The transparency of this colour is due to the careful selection of ingredients, as well as a high-pressure homogenisation step to reduce the particle size allowing light to pass through the product.
It is a rich source of Vitamin A, a precursor used by the body in the production of Retinol. Retinol is essential to maintaining good eye health.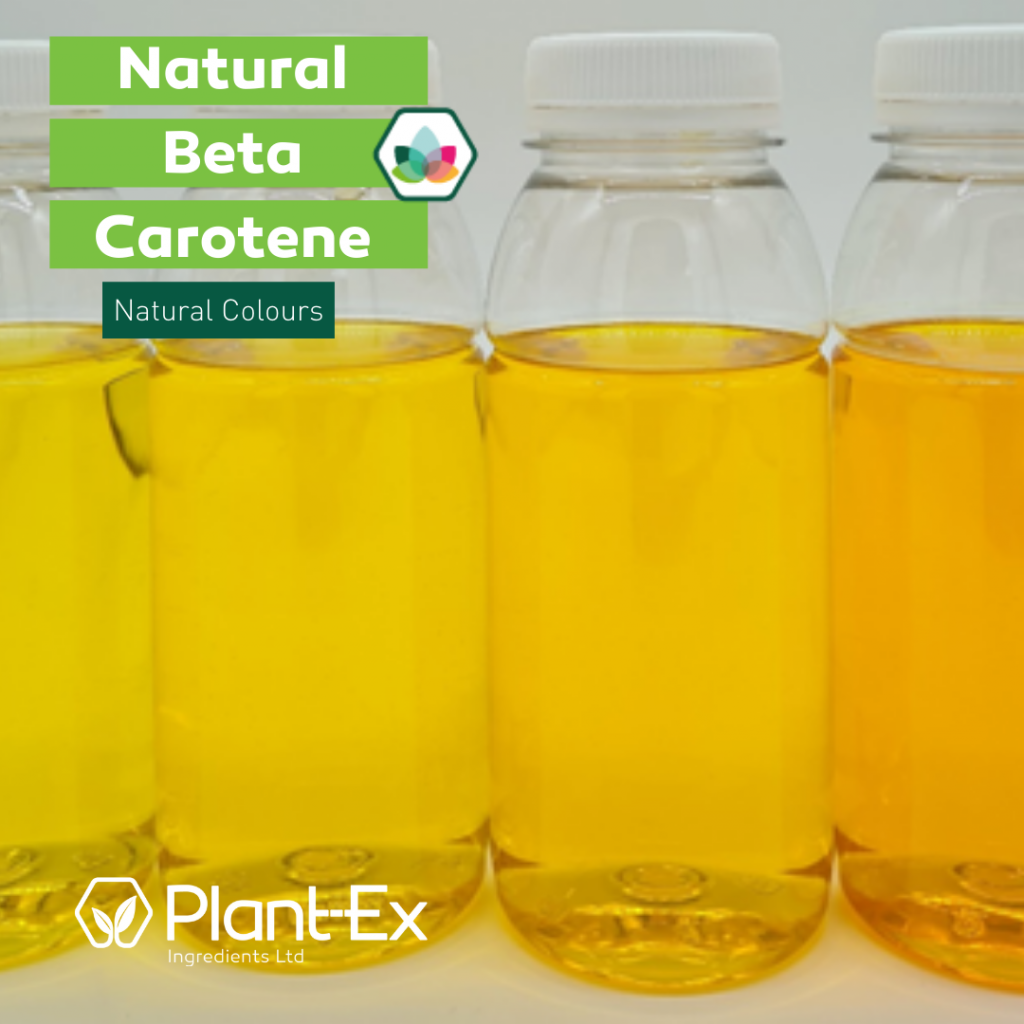 In the picture: Left to right (Dosage %) 0.025, 0.05, 0.1 and 0.25
Colour shade shifts according to the dosage used, from bright yellow at a low dosage (0.025%) to a more orange/yellow shade at higher dosages (0.25%)
For more applications, Colours, Extracts and flavours contact us at sales@plant-ex.com